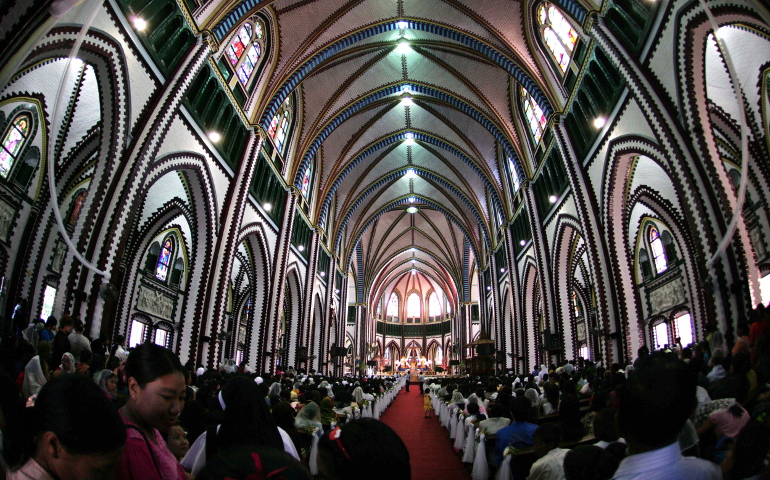 People gather inside St. Mary's Cathedral in 2011 in Yangon, Myanmar. Church sources say they expect Pope Francis to visit in late November. (CNS/EPA)
Pope Francis will become the first Catholic pontiff to visit Myanmar in late November, according to a report Monday from a prominent pan-Asian Catholic news service.
The Union of Catholic Asian News reports Francis will visit the Southeast Asian country before a previously planned trip to Bangladesh that month. The report cites unnamed "senior Catholic sources" who said the visit will begin Nov. 27 and last four days.
Such a visit would represent a significant step forward for the Catholic church's relationship with Myanmar, also known as Burma, which began a process of democratic reforms in 2015 to emerge from a half-century of military rule.
The Vatican and Myanmar established full diplomatic relations in May, following a meeting in Rome between Francis and the country's de facto leader, Nobel peace prize laureate Aung San Suu Kyi.
Monday's report states Francis will visit Myanmar's capital of Naypyidaw for a formal meeting with Suu Kyi before heading to Yangon, the country's largest city.
Francis had previously been considering a joint trip to Bangladesh and India, but reports in recent months have indicated it has not yet been possible to make arrangements for a papal visit with the Indian government. Bombay Cardinal Oswald Gracias told NCR in June that he was "losing hope" a visit to his country would take place in 2017.
Should Francis visit Myanmar, he will likely face the difficult question of how to speak about the country's Rohingya Muslim minority. The United Nations has warned that there are atrocities being committed against the Rohingya that could be considered "crimes against humanity."
About 88 percent of people in Myanmar identify as Buddhist. According to the Vatican's 2015 figures, the latest available, there are 659,000 Catholics 384 parishes in the country of 51 million.
[Joshua J. McElwee is NCR Vatican correspondent. His email address is jmcelwee@ncronline.org. Follow him on Twitter: @joshjmac.]