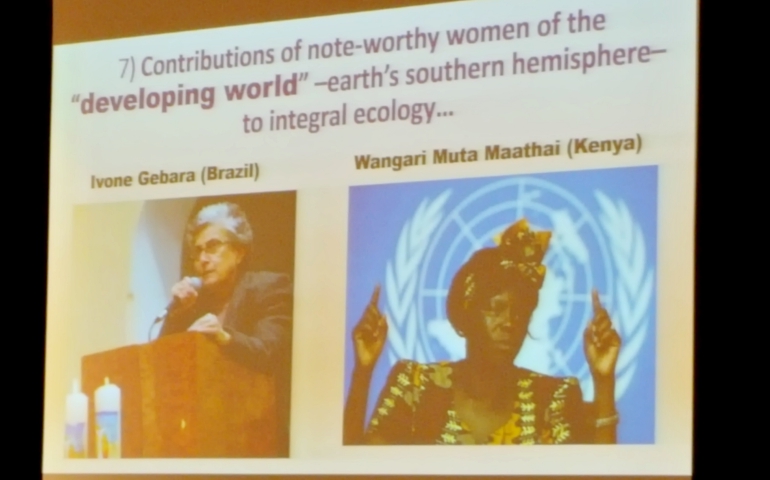 Plenary speaker St. Joseph Sr. Anne Clifford held up Brazilian ecofeminist Ivone Gebara and Nobel Peace Prize winner Wangari Muta Maathai of Kenya as having wisdom to share on caring for the Earth. (Heidi Schlumpf)
Albuquerque, N.M. — June 11, 2017
With "ecology" as the theme of the annual Catholic Theological Society of America convention, it's not surprising that contributions of ecofeminism — which connects the exploitation of women and of the Earth — were part of the discussion at the four-day meeting in Albuquerque.
Plenary speaker St. Joseph Sr. Anne Clifford had praise for Pope Francis' encyclical on the environment, yet she also raised questions about its use of "mother" language, its limited citation of women and other concerns in her ecofeminist response to "Laudato Si', on Care for Our Common Home" on Saturday morning.
The encyclical "ignores the role societal gender patterns play in consumption of Earth's resources," said Clifford, chair of Catholic studies at Iowa State University in Ames. For example, women are 14 times more likely to die in ecological disasters than men, she said, as was the case in the 2004 Indian Ocean earthquake and tsunami in Bangladesh.
Clifford also raised questions about the encyclical's use of "mother" language when the pope quotes St. Francis of Assisi's Canticle at the beginning of the document, noting that the "shadow side" of Mother Earth language is that it is "too weighed down by matter-spirit dualism."
Also of concern were the comparatively few citations from women in the document. Only Mary (the mother of Jesus) and St. Thérèse of Lisieux, both of whom lived long before ecological concerns, are cited in Laudato Si'.
Instead, Clifford held up two contemporary women as having wisdom to share on caring for the Earth: Brazilian ecofeminist Ivone Gebara and Nobel Peace Prize winner Wangari Muta Maathai of Kenya, founder of the Green Belt Movement, which has planted more than 50 million trees since its founding in 1977.
Ecofeminism also was the topic of a presentation later in the day, with three speakers revisiting feminist theologian Rosemary Radford Ruether's 1996 Women Healing Earth, an edited volume that collected 14 ecofeminist voices from the Global South.
Theresa Yugar of California State University summarized contemporary Latino ecofeminists, adding that she is part of a new group, Circulando Juntas ("Circling Together"), which tries to continue the "North-South conversation" started by Ruether.
Other speakers at the session were Sarah Robinson-Bertoni of Santa Clara University, who put Ruether and Laudato Si' in conversation, and Lilian Dube of the University of San Francisco, who spoke on restorative justice for the broken women of Rhodesia, now Zimbabwe.
[NCR contributor Heidi Schlumpf is in Albuquerque, New Mexico, for the meeting of the Catholic Theological Society of America. Follow her reporting here and on Twitter with the hashtag #CTSA2017. Schlumpf teaches communications at Aurora University and is the author of Elizabeth Johnson: Questing for God.]