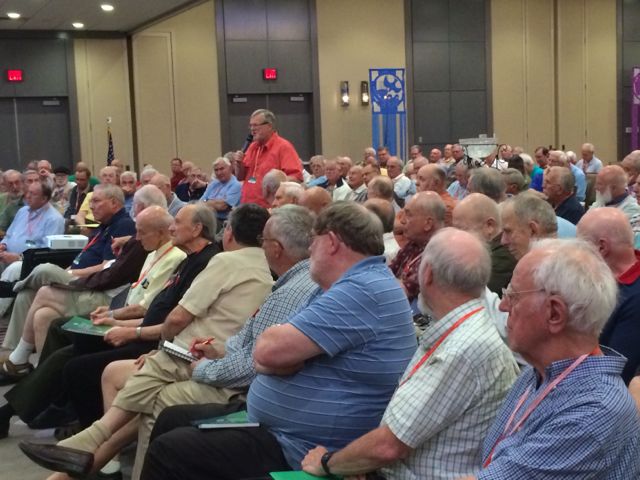 General assembly (Photo by Tom Fox)
St. Louis — June 24, 2014
An estimated 225 priests from the Association of U.S. Catholic Priests have gathered in St. Louis for a three-day conference aimed at carrying church renewal forward.
The theme of the assembly is "Revelation in our Lives and Time," drawn from the Second Vatican Council document Dei Verbum, the primary Vatican II document on Scripture.
The group was formed following an Aug. 25, 2011, meeting of 27 self-described "Vatican II priests" at Mundelein Seminary in Illinois. The organization's inaugural assembly in June 2012 drew approximately 240 delegates from 55 dioceses to St. Leo University, northeast of Tampa, Fla.
About 150 priests attended the second conference last year at Seattle University.
The mood among these priests, whose average age is 69, is generally upbeat in the wake of the election of Pope Francis last year. A life-sized Francis cutout is a major draw with the priests, who snap photos between assemblies.
"We feel renewed ... confirmed," said retired Chicago archdiocese priest Leonard Dubi, who said he and other priests of his generation have felt "discarded" by bishops and the younger conservative priests. With a new "patron" in Rome, Dubi said, these priests, some retired, some soon to be retiring, feel uplifted.
"We are not reinventing the wheel," one priest said. "We are committed to implementing Vatican II."
Archbishop Emeritus John Quinn of San Francisco will receive the association's John XXIII Award at this year's assembly, being held at the Airport Marriott.
A version of this story appeared in the July 4-17, 2014 print issue under the headline: 'Vatican II' priests meet, report revived hope.