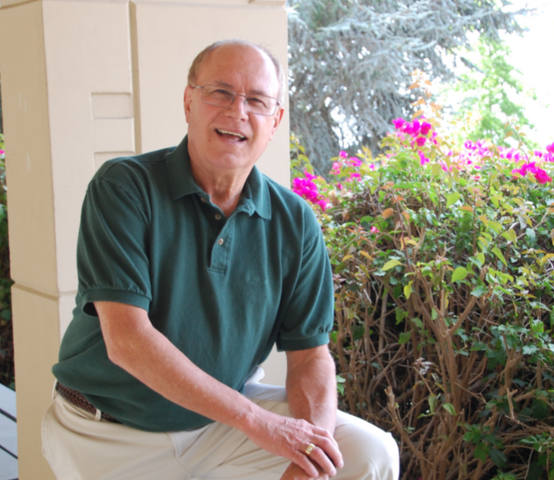 Robert Ludwig is the interim director of the Sophia Center in Culture and Spirituality at Holy Names University in Oakland, Calif.
As they say in the vocabulary of hiring, Robert Ludwig is a "good fit" for his new position as the interim director of the Sophia Center in Culture and Spirituality at Holy Names University in Oakland, Calif.
For one, he spent his seminary days reading "on the sly" the writings of paleontologist Jesuit Fr. Pierre Teilhard de Chardin. He's also a proponent of "geojustice" -- a concept at the heart of the Sophia Center's purpose -- and a long-time friend of Matthew Fox, founder of the center's predecessor.
In July, Ludwig assumed his new role at the Sophia Center, succeeding Jim Conlon, who retired in May after 29 years at the school. Ludwig himself retired last year after 10 years as a professor of pastoral studies at Loyola University Chicago.
Now with a preference for temporary assignments in teaching and administration, Ludwig is fine with his interim Sophia Center assignment, which runs until late next spring.
"I'm delighted to be here," he told NCR.
Ludwig regards lay people in the Catholic church as needing to become the change makers for the world they wish to have. One way is shown in the idea of "geojustice," a concept of social justice and peace activism expanding to take in every person, creature and ecological system on the planet.
In his 1995 book Reconstructing Catholicism for a New Generation, which won a Catholic Press Award that year, Ludwig underscores the necessity of "perceiving the reconstructed universe disclosed in the new physics … it is more than human liberation and human healing. It is about cosmic liberation and cosmic healing -- connecting human creativity to the wondrous music of the universe."
Teilhard's Divine Milieu and Phenomenon of Man opened Ludwig's eyes and set the stage for his theological conversion in the 1960s. But the Second Vatican Council documents calling for lay empowerment became the deal breaker for him. After spending 18 months at Conception Benedictine Abbey in Missouri, Ludwig knew it was time for him to move on.
"My life changed. I had a whole new vision," he said, noting that Vatican II's emphasis on "baptism as the call to discipleship" changed what he had originally intended to do. The prospect of seeking ordination now "seemed more limiting than empowering," he said.
After completing his bachelor's degree at Loras College, in Dubuque, Iowa, Ludwig enrolled as a lay student at the Aquinas School of Theology in St. Louis, where he earned masters and doctorate degrees in systematic theology. During that time, Ludwig became further empowered by the thoughts of social justice advocate Jesuit Fr. Daniel Berrigan, who became the subject of Ludwig's dissertation on political theology.
Ludwig later became friends with Matthew Fox during a 15-month span while both studied theology in Europe. Fox would go on to form at Chicago's Mundelein College in 1976 his Institute in Culture and Creation Spirituality -- the Sophia Center's predecessor -- before moving the program to Oakland in 1983*. Ludwig recalls him and Fox engaging in many interesting conversations about creation spirituality and social protest.
Ludwig's long career in academia has included a theologian in residency role at the University of Colorado in Boulder, where he discovered that "reading Teilhard was a requirement for students," an assignment he saw as quite remarkable for a secular school. Later, while directing university ministry at Loyola-Chicago, Ludwig organized in 1981 a three-day symposium on Teilhard on the 100th anniversary of his birth.
"It was the biggest event they ever had there," he said, recalling anywhere from 300 to 500 people showing up to hear eight speakers, including "busloads of nuns coming in from Wisconsin, Michigan and Indiana."
In 1985, as director of university ministry at DePaul University in Chicago, he introduced a new course in ecology, spirituality and ethics. The popular class ran through 2001 and featured ecological retreats, spring forums on nature and culture with participation from a number of academic departments.
As for the Sophia Center, Ludwig said increasing its enrollment stands at the top of his "to do" list. In recent years, the program had dwindled from its late-1990s heyday of 90 students per semester to a dozen or so. In addition to attracting graduate students, he plants to target undergraduates by opening up some program courses to juniors and seniors.
Ludwig wants to pass along the Sophia vision to a whole new generation of people. During his campus ministry years, he discovered that many young people "have an instinctive, ecological mysticism. When they go out into nature connect with the forests, and the ocean, their response is 'wow.'"
The new Sophia Center director also plans to work with the Holy Names business program to develop a master's in organizational leadership and social responsibility component for graduate students. The goal is to better equip them to work for ecological change in their future work, whether it be teaching, lobbying or other forms of activism. Ludwig has also approached former Sophia guest lecturers and presenters about returning to Holy Names.
Ludwig notes that the ideas at the program's core have been in place for the past 25 years, but the necessity of getting them out into the world is now more important than ever.
"Our environment is going to hell in a hand basket," he said, adding that meanwhile, most people still don't have an inkling as to the sacred, numinous nature of the universe.
In the fall, Ludwig is taking his message off-campus to other venues. He is set to present a talk Nov. 7 on "Christianity as a Mysticism" at the Call to Action meeting in Milwaukee.
In October, he will be in Fort Collins, Colo., speaking on Pope Francis' environmental encyclical, "Laudato Si', on Care for our Common Home." He is also planning a public symposium on the encyclical at Holy Names, tentatively set for Oct. 9, which will feature Sharon Smith, director of the Tropic Forest and Climate Initiative with the Union of Concerned Scientists.
"Pope Francis has put spirituality and ethics on the public agenda regarding ecology. This is a time to reflect and consider what kind of society we want and how we will shape it," he said.
[Sharon Abercrombie, a frequent contributor to Eco Catholic, is a 1993 Sophia Center graduate and served briefly as an interim faculty member in 1996, teaching a class on "Dances of Universal Peace." Since 2010, she has been leading the dances in Columbus, Ohio.]
Editor's note: A previous version of this story misstated the year Matthew Fox moved the Institute in Culture and Creation Spirituality to Oakland as 1996. That year, he founded in Oakland the University of Creation Spirituality.
Want more stories from Eco Catholic? We can send you an email alert once a week with the latest. Just go to this page and follow directions: Email alert sign-up.