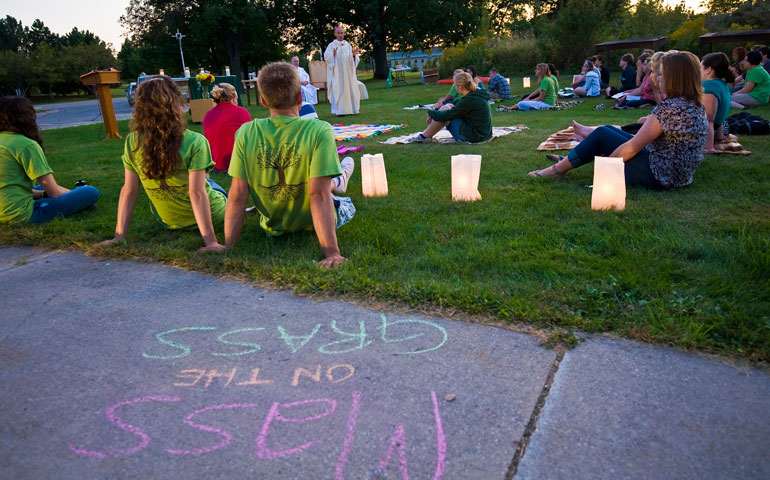 Green Bay Auxiliary Bishop Robert Morneau delivers his homily during an outdoor Mass at the University of Wisconsin at Green Bay in September 2011. The evening service was the Newman Center's fall welcome event. (CNS/The Compass/Sam Lucero)
BELIEF WITHOUT BORDERS: INSIDE THE MINDS OF THE SPIRITUAL BUT NOT RELIGIOUS
By Linda A. Mercadante
Published by Oxford University Press, $29.95
The question of what is happening to organized religion in America remains unanswered, but one thing is clear: Larger and larger numbers of individuals are drifting away from traditional notions of church. In her book Belief Without Borders, Linda A. Mercadante, a Presbyterian minster and theologian raised in a half-Catholic, half-Jewish family, begins her exploration of the faith lives of the "spiritual but not religious" (whom she calls SBNRs) with a thesis about spiritual change. She writes, "No matter how organized religions try to ignore, challenge, adapt, or protest it, our society is being changed by this pervasive ethos."
Based on five years of research and interviews with more than a hundred SBNRs, Mercadante's book begins by discussing the need to examine the spiritual lives of SBNRs in order to understand their emergence as a fast-growing segment of Americans. She discusses the generational differences in SBNRs among the silent generation, boomers, Gen X and millennials, and further narrows the possible categories by breaking SBNRs into "types": dissenters, casuals, explorers, seekers and immigrants (not physical immigrants, but those who've moved into a new belief).
Mercadante clearly reached out to a wide range of interviewees, but she admits that millennials, who represent the largest statistical percentage of SBNRs, were the hardest to reach and represent the smallest percentage of her interview subjects. As she says, "I did not find the same level of enthusiasm for this project [among Millennials] as in other cohorts." While many institutional religions hope that millennials who drift will return to the faiths of their childhood, Mercadante is skeptical about that possibility: Many millennials cannot return to the religion of their youth, "in part because many of them never had one."
Thus, Belief Without Borders becomes an exploration mainly of older generations' exodus from organized religion, which is useful context for understanding the framework many millennials entered into from a young age. But it also means that the book is missing concrete answers to the main question many churches are asking these days: "Where are the young people?"
Mercadante's methodology and organization are scholarly, but general audiences who are willing to wade through a bit of methodology at the beginning will be rewarded with some revealing information later on.
After establishing her categories, she divides the subject matter of her interviews into the most common questions many people have about what, exactly, SBNRs do or do not believe. Chapters on transcendence, human nature, community and the afterlife form the core section of Mercadante's book. These chapters shatter that the idea that SBNRs do not really believe in anything.
Mercadante's interviewees are eclectic and wide-ranging in their beliefs. As boomers and Gen Xers form a fairly large segment of her sampling, there are a number of beliefs talked about here that can be loosely lumped under the banner of "New Age." Many of her subjects drifted from upbringings that failed to present a focused idea of religion, and as a result, some SBNRs whose parents moved from one religion to another have wound up in a kind of jumbled, do-it-yourself, pick-and-choose faith.
Nonetheless, they come to agreement on at least one issue. "The one thing nearly everyone said," Mercadante writes, "is that human nature is inherently good."
Beyond that point, there isn't one solid thing that SBNRs seem to believe, perhaps because so many of them are still trying to discover what belief means to them.
An interesting theory about the impact this drift from organized religion might have on the role traditionally played by community begins to arise from Mercadante's research. Because SBNR belief is so often about searching, it frequently turns inward to focus on the self, rather than turning outward to embrace the other. This search for the "authentic self" inherent in so many of Mercadante's interviewees may be a reaction against the time we live in, a way of "carving some space away from the distracting, fragmented external world."
YOUNG CATHOLIC AMERICA: EMERGING ADULTS IN, OUT OF, AND GONE FROM THE CHURCH
By Christian Smith, Kyle Longest, Jonathan Hill and Kari Christofferson
Published by Oxford University Press, $29.95
So what is the place of young Catholics in this same "fragmented" world that Mercadante's SBNRs inhabit? According to the research done by the authors of Young Catholic America, young Catholics may be just as spiritually at sea as many of their religiously unaffiliated peers. Drawing on surveys and interviews conducted with the same cohort of participants from 2002, when they were young teenagers, to 2008, when they were "emerging" adults, the four researchers who co-authored this study began their work in a negative space. Prior to the National Study of Youth and Religion that led to this book, the research on young Catholics showed a story of "decline and loss."
Young Catholic America attempts to pick apart some of the reasons behind that decline. Much of the first section of the book is focused on the role parents play in giving their children a Catholic identity, and the authors conclude that many parents of millennials were "poorly formed in Catholic faith and life." The reasons for this are manifold, but the authors point to a long era of "institutional weakening" of the church.
The ripple effect of this on the formation of a Catholic identity in younger adults is traced throughout the book, with chapters examining the role of Catholic high schools, religious trajectories from youth into adulthood, and the ways in which Catholic identity affects a person's life outcome. Helpfully, the authors also offer an excursus on what it means to be Catholic today -- an open-ended question, to be sure, but one that these young adults are clearly grappling with.
It is not a spoiler to say that the book's conclusions about the future of young adults in Catholicism are fairly grim. One need only look around at the average Sunday Mass to see that young adults are few and far between. While the book is heavy on statistics, graphs and charts, and light on the interviewee's personal faith narratives, it does offer some correctives to commonly held assumptions many people have about what helps in the formation of a Catholic identity.
For example, attending a Catholic high school does not increase a person's odds of staying in the church. Lapsed Catholics are highly likely to remain lapsed for a lifetime, whereas lapsed Protestants are not. The majority of Catholic youth, like most youth, have premarital sex and use birth control.
And they are sorely lacking in role models. In fact, the study finds that teens and young adults find Mass more rewarding if they can socialize with "important adults" in their church communities. This is an interesting corrective to the bishops in Albuquerque, N.M., and Oakland, Calif., who have recently replaced priests in parishes near college campuses in order to focus more on serving students. Those bishops have lost the chance to build truly intergenerational parishes, which would more likely produce young adults who will continue to be Catholic for a lifetime.
The emerging adults portrayed in both of these books are entering a religious future that looks increasingly blurry, unpredictable and strange. But, in that strangeness, they may find something new.
[Kaya Oakes is a poet and nonfiction writer from the Bay Area in California. Her most recent book is Radical Reinvention: An Unlikely Return to the Catholic Church.]
A version of this story appeared in the Aug 29-Sept 11, 2014 print issue under the headline: Going, going, gone: Books study exodus from religion.