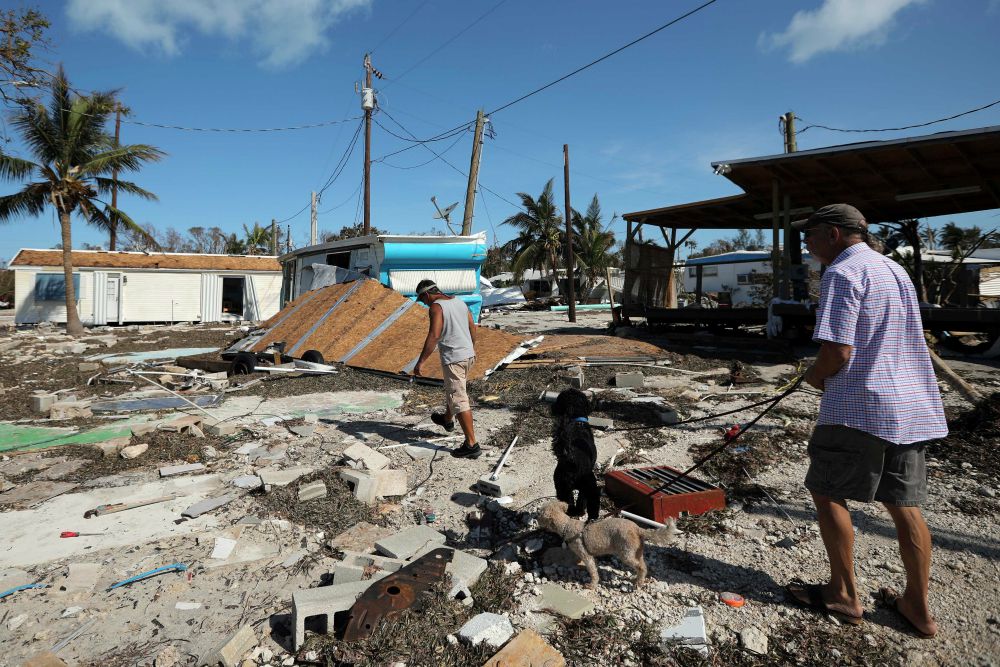 Men walk in a destroyed mobile home park Sept. 12 in the aftermath of Hurricane Irma in the Florida Keys. (CNS/Carlos Barria, Reuters)
I have always been passionate about the social teachings of the church, and in my studies I had the opportunity to explore documents that raised my awareness of justice issues and see how the church encourages her missionaries to address them in light of Gospel values.
I was encouraged by how the social teachings assessed the realities of our world, especially in the countries where I have worked, and how they helped me discern how I can respond in collaboration with others. I am also able to situate the mission statement of our institute, the Sisters of St. Louis, within the church's social teaching and her option for the poor.
Some years back, our community chapter was discerning our priorities for mission. Some of us chose care of the Earth as our main focus, while others chose caring for the poor and marginalized. At that stage, the connection between the two was not so clear to many of us.
In recent years, as I reflected more on the United Nations' Millennium Development Goals, climate change and sustainability of the Earth, I was pleasantly surprised to find papers online that link the environment and poverty; global warming and food scarcity; migration of peoples and other species; economic systems and the biosphere; human activities and the survival of the Earth's resources; pollution of the environment; and the threat to the survival of human and non-human species and ecosystems.
I discovered that there hadn't really been a church document on the topic, though many Catholic theologians (Thomas Berry, Sean McDonagh, Donal Dorr,Teilhard de Chardin) have written so much on it. So when "Laudato Si': On Care for our Common Home" was released by Pope Francis, it was a very welcome document. In 2016, I heard Dorr speak on ''The Ecology Encyclical of Pope Francis: An inspiring call to contemplation and action.'' This introduced me to the encyclical and aroused my desire to read the whole document.