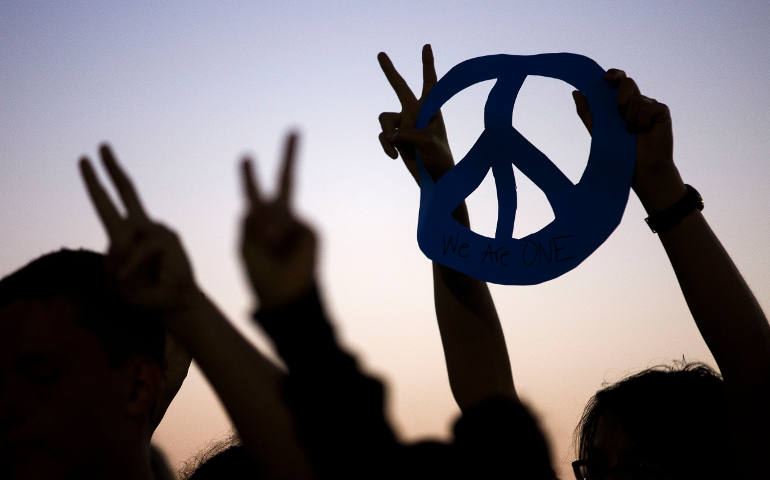 Protesters raise their hands with peace signs after a string of nationwide police shootings of African-Americans and the slaying of police officers in Dallas during a July 8 vigil in Huntington Beach, Calif. (CNS photo/Eugene Garcia, EPA)
Washington — August 26, 2016
Around the country, Catholic organizations, parishes, clergy and laity are taking action and bolstering efforts to build peace and battle racism, following a summer of violence.
In New Orleans, St. Peter Claver Catholic Church is involved in community mediation with law enforcement and is working on a variety of other issues related to racial justice, including seeking just wages for all. In Baltimore, Auxiliary Bishop Denis Madden leads regular prayer walks in neighborhoods plagued by violence. He also participates in a group of interfaith leaders in the city to work toward racial justice.
In Dallas, the city that witnessed the height of summer's boiling point when a gunman opened fire on police -- killing five and wounding seven officers and two civilians -- during a protest, Holy Trinity Catholic Church is participating in gatherings with Dallas Area Interfaith, a group that brings various communities together to try to understand the problem of racism, as well as the recent shootings that took place.
Holy Trinity parishioner William deHass, who has attended some of the gatherings, says that based on what has been discussed at the interfaith group, "some churches ignore or avoid speaking about racism." But the aftermath of the violence has provided an opportunity for people of different races and faiths to listen and support one another, he said.
"It's, really, the laypeople who believe that change and transformation can happen and so there are a lot of positive things that are going on in neighborhoods and communities because people believe in the social Gospel teachings of the church," said Sr. Patricia Chappell, executive director of Pax Christi USA, and a member of the Sisters of Notre Dame de Namur. "People are grasping that and are almost compelled to be engaged and be involved."
---
More: "Violent summer pushes U.S. to once again deal with lingering pain of racism" (Aug. 26, 2016)
---
Chappell said organizations such as Pax Christi and NETWORK, a Catholic social justice lobby, have published guides showing where the two most prominent presidential candidates stand on a variety of issues, including issues of race.
"We're not telling people how to vote," she said, but the documents focus on issues that are impacting the poor and marginalized communities. "We have pointed out clearly based on the values of the social Catholic social teachings, and what Pope Francis is saying, that we must be on the side of those who are vulnerable and poor and we have laid out issues for people to look at where the candidates stand."
Chappell also will be participating during talks that will take place as part of a task force to deal with issues of race, formed by the U.S. Conference of Catholic Bishops. It will be chaired by Archbishop Wilton Gregory of Atlanta, who, in an Aug. 4 letter in The Georgia Bulletin newspaper, said that for gestures of mourning to be meaningful, they also must be followed with action.
The task force will meet as part of "Day of Prayer for Peace in Our Communities" declared in July by the bishops, "in light of recent incidents of violence and racial tension in communities across the United States." The day of prayer for peace will be celebrated Sept. 9, the feast of St. Peter Claver, patron saint of slaves.
In a July news release, the bishops conference said the day of prayer and task force are a "response to the racially-related shootings in Baton Rouge, Minneapolis and Dallas." After the violence of July, Archbishop Joseph Kurtz of Louisville, Ky., president of the bishops' conference, the press release said, "noted the need to look at ways the Catholic Church can walk with and help these suffering communities."
Under "Pray for Peace in Our Communities" on the usccb.org website, the conference offers resources to help parishes and communities seeking to organize events for Sept. 9. The USCCB's Department of Justice, Peace and Human Development also has a diversity and racial justice page at WeAreSaltAndLight.org that can provide resources on prayer, learning about others, reaching out to others, and taking action.