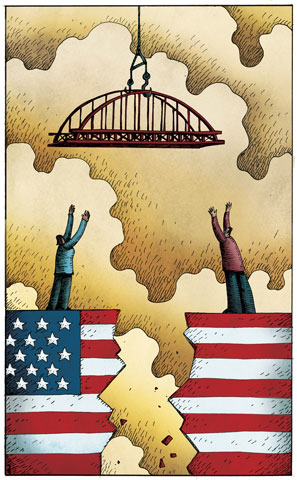 (Paul Lachine)
2016 could go down in U.S. history as the fault-line election year. As a nation, we've become so intensely concerned with individual well-being and measures of success, and so fearful of those who are different, that our politics have become dangerously stagnated and society fractured by a multitude of fissures. Unlike true geographic fissures, the fault lines that threaten to rip U.S. society apart are easy to see; they run through multiple strata of our collective lives.
They are economic. We are running headlong into a future of haves and have-nots, with incredibly corrosive effects on our society and our spirit. The inequality and real income stagnation of the last years have left too many people without a sense of control over their lives.
They are technological. The question today about jobs is not just an economic question, which is why campaign slogans that blithely promise better trade deals or only to raise minimum wages do not address the deeper issues of the changing workplace. One economist estimates that eliminating the U.S. trade deficit would add only about 2 million new jobs -- not an insignificant number, but that would place about 11.5 percent of the workforce into manufacturing, a far cry from more than 25 percent in the 1960s. In our technology- and information-based economy, the people at the lower end of the economic scale -- the Uber drivers and retail clerks -- are left out and have little leverage.
They are racial. The lid has exploded off the injustice endured by people of color, especially African-Americans, by racially biased social and economic structures -- and the flashpoint of this explosion is in the streets where police are called to serve. The dilemma at the heart of this crisis is that for historical and social reasons the people in the neighborhoods who most need protection and services distrust the civil servants, especially the police.
They are cultural. The family, the foundation of American society, is in danger, not -- as conservatives would have us believe -- from same-sex marriage, but from the forces named above. We have to be honest and acknowledge that families have never been exclusively "traditional" with children raised by one man and one woman. Same-sex parents may be relatively new, but they join the myriad configurations by which children have been raised for a long time: single parents, grandparents, older siblings, extended family, foster and adoptive parents. Poverty is the major cause of family instability, and too many children are raised in poverty.
Donald Trump ran a successful primary campaign by offering a false but compelling narrative that exploited people's real suffering and anxieties, but also by demonizing others. It has profoundly shaken the Republican Party and increased the tensions and fears of the country in general.
Conventional wisdom at this junction is that Hillary Clinton can win the presidency simply by not being Donald Trump. Not being Trump may get Clinton elected, but it won't make her successful. Given today's circumstances, it's easy to see four more years of partisan intransigence that will hobble the new president and Congress.
To be successful, the next president must stop the churning of hate that has embittered this country and forge a coalition with a plan that can address the fears and anxieties of all members of society. Catholics -- with our history of social teaching and understanding of the common good -- can play an important role in the healing of our culture.
In an essay in America earlier this year, San Diego Bishop Robert McElroy recalled Pope Francis' address before Congress last September in which the pope cites four great Americans: Abraham Lincoln, Dorothy Day, Thomas Merton and Martin L. King Jr. These figures teach us, Francis said, that "building a future of freedom requires love of the common good and cooperation in a spirit of subsidiarity and solidarity." America has a deep heritage as a land for dreams, Francis said: "Dreams which lead to action, to participation, to commitment. Dreams which awaken what is deepest and truest in the life of a people."
McElroy then explained how, in Catholic thought, concern for the common good is integral to holding public office. "The core of the vocation of public service, and of all politics, is to promote the integral development of every human person and of society as a whole. It is a vocation that requires special and self-sacrificial concern for the poor, the unborn, the vulnerable and the marginalized. It is a commitment to pursue the common good over that of interest groups or parties or self-aggrandizement. It is a profoundly spiritual and moral undertaking."
As Catholics, we would advise putting families and job creation at the heart of the domestic agenda. Make the minimum wage a living wage. Encourage workers to organize. Pay women and people of color equally with white men.
Create jobs by investing public funds in rebuilding our infrastructure, increasing the stock of affordable housing and supporting clean energy. Devise a new paradigm for trade relations that puts a premium on creating and protecting sustainable economies, both here and abroad, and make those trade agreements transparent.
Make it easier for families to stay together. Support working families with easily accessible and affordable child care and extend early childhood education programs. Rebuild our public education system and make higher education affordable. Make paid family and medical leave federal law. Create a federal youth jobs program. Put ironclad protections around Social Security, Medicare and Medicaid.
This is a wish list and not a comprehensive plan, but it points in the direction of putting people first in national priorities. We challenge all officeholders to place the common good above special and moneyed interests or partisan and ideological agendas.
Moving the national agenda in this direction will require a realignment of national priorities, but it seems the nation is ready for that. We have two choices: to allow fear and anxiety to rule our national agenda or to allow hope to set our course.
A version of this story appeared in the July 29-Aug 11, 2016 print issue under the headline: A Catholic role in healing US culture.