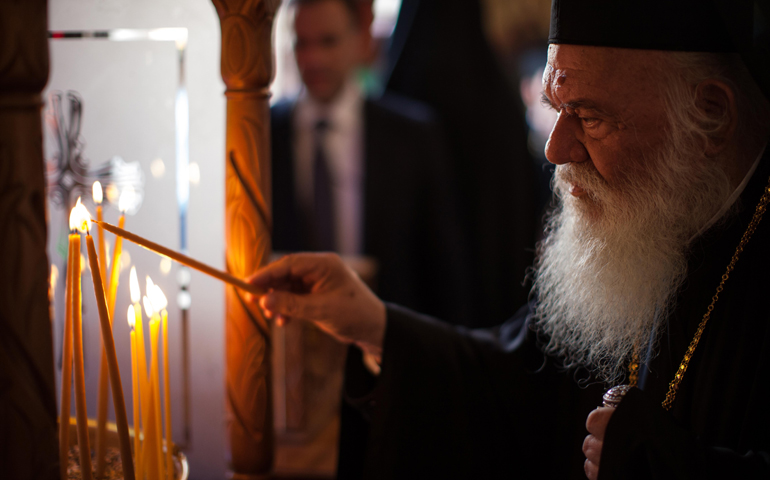 Orthodox Archbishop Ieronymos II of Athens and all of Greece lights a candle as he enters St. Mena Cathedral in Heraklion, Greece, June 19. The Great and Holy Council of the Orthodox Church opened June 19. (CNS/Sean Hawkey, handout)
Senior Orthodox representatives have insisted decisions by the Holy and Great Council, currently meeting in Crete, will be "representative and binding" for all churches, as two more declarations were agreed on key aspects of Orthodox life.
"We haven't come here for a conference or meeting, but for a Holy Council, which was convened by Orthodox church primates in a consensus -- so only a similar consensus by the primates could delay the Council or change its status," Archbishop Job Getcha of Telmessos, the Council spokesman, told a June 23 press briefing.
"The documents being discussed were composed by all the churches together during our pan-Orthodox consultations, and their reception will start after the closing session. It's clear to all gathered here that the Council's decisions will therefore be representative and binding."
The archbishop was responding to questions about the absence from the Council of Orthodox leaders from Russia, Bulgaria, Georgia and the Antioch Patriarchate, together representing around half of Orthodoxy's 300 million worldwide adherents.
He said the Crete Council had been preceded by more than half a century's consultations, involving all Orthodox hierarchies, and should be viewed "as a process rather than just an event."
Meanwhile, another church official said functions, rules and voting procedures for the Council had also been agreed by all Orthodox leaders, and were not affected by the decision of certain churches to stay away.
"Conciliarity isn't determined by quantity, and how many Christians are supposed to be represented here -- it was a common decision to gather and discuss these topics," said Ionut Mavrichi, spokesman for the Romanian Orthodox church.
"Ecumenical councils have been held before without the presence of some patriarchates, but this didn't make them less ecumenical or less binding. Some of our own churches didn't even exist at the time, but we still recognize them."
The week-long Council, widely believed to be the first on such a scale for more than a thousand years, is in session at Kolymbari in Crete, attended by 290 delegates, two-thirds of them bishops, from 10 of Orthodoxy's 14 main churches.
The agreed declaration on the autonomy of churches said a decision to grant self-rule to new Orthodox churches, often a cause of dispute, will be the "canonical prerogative" of its mother-church.
It also confirms that rival claims to jurisdiction over autonomous churches must be referred to the Ecumenical Patriarch of Constantinople, who holds honorary first place among Orthodox primates, "so he may find a canonical solution in accordance with prevailing pan-Orthodox practice."
The second declaration, on fasting, describes the practice as a "divine commandment" and "expression of the Orthodox ascetic ideal," but says fasting also includes "the checking of anger, and separation from lust, evil-speaking, lies and false oaths."
It adds that requests to be relieved of fasting because of illness, work conditions or military service should be left to local churches, but should not "diminish the importance of the sacred institution of fasting."
"In the literal sense, fasting is abstinence from food; but food makes us neither more nor less righteous. In the spiritual sense, as life comes from food and the lack of food is a symbol of death, it is necessary we fast from worldly things," the Council document said.
"Therefore, the true fast affects the entire life in Christ of the faithful and is crowned by their participation in divine worship, particularly in the sacrament of the Holy Eucharist."
A Council source said pressure had grown among Orthodox Christians for a modification of fasting rules "given today's life and work."
However, he added that conservative Orthodox leaders had insisted on "maintaining strict standards," claiming the modification of requirements in the Catholic church had "led to a dramatic decrease of fasting among Catholics."
Two other declarations, on churches' contemporary mission and care of Orthodox diaspora communities, have also been agreed at the Council, while documents on marriage and ties with other Christian churches are still under discussion.
Job told journalists most of the texts had been agreed with only "little amendments," while Council staffers were "working like bees" to obtain final agreement on all the remainder.
He added that more Orthodox bishops were now speaking up in debates "after some initial stage-fright," and said the Council's overall aim was to be "not just to copy and paste from past councils," but to produce a message "addressed to the people of the 21st century."
The Council source said consideration was still being given to institutionalizing the Holy and Great Council as "the supreme organ of Orthodoxy," by agreeing to reconvene it regularly at intervals of five to 10 years.
He added that the Ecumenical Patriarch, Bartholomew I, who is hosting the Council, had included an abbot from Greece's autonomous Mount Athos monastic center in his delegation and promised to "take full account" of strident criticisms by conservative figures from the peninsula.
Speaking at the press briefing, Metropolitan Alexander of Nigeria, representing the Patriarchate of Alexandria, said Council participants were deeply concerned about "grave humanitarian issues" facing Africa and the Middle East, adding that the agreed declaration on mission would provide "a roadmap for local churches to take action" to alleviate current sufferings.
Meanwhile, a spokesman for the Ecumenical Patriarchate denied June 23 media reports that a dispute had erupted with the Orthodox church of Greece over jurisdiction in some areas of the eastern Aegean Sea, and said there had been intense discussion about threats to Christian communities in the historic territory of the Antioch, Alexandria, Constantinople and Jerusalem Patriarchates.
"For more than a thousand years, we weren't talking, but now we are, supported by millions of Orthodox Christians -- this may not be a media soundbite, but it amounts to a very loud noise for us," said Archdeacon John Chryssavgis.
"As a theologian, I'm often critical of my church, wondering whether it's really in the 21st century as it should be. I also question my hierarchy, and my church's pastoral outreach. But I'm very pleasantly surprised by the openness being shown here to global concerns and interests."
[Jonathan Luxmoore's two-volume study of communist-era persecution, The God of the Gulag, has just been published by Gracewing in the U.K.]