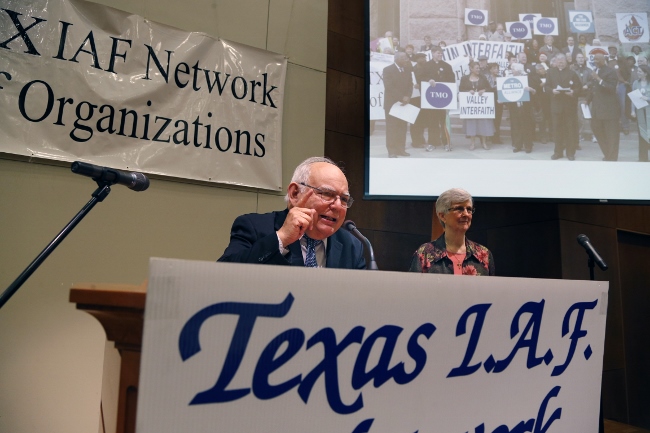 Ernesto Cortès Jr., national co-director of the Industrial Areas Foundation, and Sr. Christine Stephens, national co-director emeritus, lay out the future strategy of Texas' IAF organizations to expand to suburbs, exurbs and smaller cities in the state. (Courtesy of Communities Organizing for Public Service)
For more than 40 years, 11 organizations across Texas, made up of various faith and community-based groups, have been working together to push for changes in their communities, on issues ranging from transportation to crime and poverty reduction.
These groups are part of the national umbrella organization, Industrial Areas Foundation (IAF), whose mission statement states its commitment to Judeo-Christian and democratic values leads to "organizational relationships that grow the voices of families and communities."
Ernesto Cortés Jr., national co-director of IAF, explained that the foundation's organizing is institutionally based. This means there are no individual members, but instead members are groups such as Catholic churches and other faith-based groups, non-profits, unions and schools.
"It is amazing to have Jews, Muslims, Christians and non-Christians all working together," said Elizabeth Valdez, lead organizer for The Metropolitan Organization in Houston, which is part of the foundation.
On April 30, the groups gathered to recognize the state's flagship organization Communities Organizing for Public Service (COPS/Metro) and founding leaders of the state's organizations. As part of the celebration marking 40-plus years of organizing, the Texas IAF groups launched their statewide political strategy.
"Neighborhoods are growing faster than schools … neighborhood associations [and] congregations, so people are more and more isolated," said Jorge Montiel, lead organizer of COPS/Metro. "Our strategy is to bring this model of organizing to those areas by moving this model that has worked so well for 40 years into new turf."
In a press release, the Texas Industrial Areas Foundation network stated, "This year, [we are] stepping up to the plate to force candidates and our elected officials to have adult conversations about important issues in our state."
Increasing employee pay is one of the issues the IAF groups have been pushing.
"It's illegal to pass a living wage ordinance in Texas by city," said Josephine Lopez Paul, lead organizer for Dallas Area Interfaith, also involved in the IAF. The approach instead has been to get some of the largest employers in the area on-board to create competition.
Maria Tijerina, leader of COPS/Metro, said in San Antonio they started a living wage campaign with the county, the hospital and college districts and the city to bring wages up to $13 per hour for entry-level and service employees.
But the fight for a living wage is just one issue IAF groups are addressing in Texas. In one of many letters from Texas' Catholic bishops congratulating IAF for 40-plus years of organizing in Texas, Archbishop Emeritus Joseph Fiorenza of Galveston-Houston reflected on how The Metropolitan Organization and Gulf Coast Leadership Council (both IAF organizations) have improved lives of the poor and immigrants. He pointed out the organizations have leveraged, "Millions of dollars for basic services for our families, such as improving flood prone areas [and] reducing crime." He also mentioned passing bills to meet healthcare needs of the poor.
Cortés said the organizations' leaders raise their budget with dues, money campaigns and some grants. A long-time provider of those grants has been the Catholic Campaign for Human Development. Ralph McCloud, the campaign's director, said the grant money must go toward the reduction of poverty.
Although not 100 percent foolproof, McCloud said, there are safeguards to ensure the money is not used for anything contrary to church teaching. "There is the endorsement of the local bishop, a diocesan director who oversees the activity [and] a dedicated national grant specialist who monitors activities," he added.
The issues that IAF puts forth in its agenda are political, but not partisan in a traditional sense.
"We are partisan about our agenda," said Cortés, "For example we are very partisan about early childhood education … being able to drink the water … the worker being paid a decent wage." However, Cortés also mentioned that support from Republicans, Democrats and Independents is all welcomed. IAF does not endorse candidates from any party.
"Our whole focus is how do we sustain the conversation," said Cortés who also reflected on how this will impact the church. "The church will be long-term served by people having these kind of conversations even though they may disagree with each other."
One person who disagrees with Catholic churches being member institutions of IAF is Stephanie Block, a Catholic journalist and author of five books regarding IAF founder, Saul Alinksy.
"Members of a given parish who don't support a specific legislation now find their money and the moral authority of their parish being used to push that legislation," argued Block, "That's a problem. It's abusive of the citizen's rights, and it's an abuse of the church's moral authority."
On any given issue a parish or other group can opt out. Rev. John Ogletree, pastor of First Metropolitan Church in Houston, a member of The Metropolitan Organization, said, "None of the concerns or issues are mandatory on a whole congregation, but it does allow those people who are passionate, who are dealing with those issues to rise up."
When IAF organizing came into Block's parish she questioned why the bishop was permitting it. Her questions led her to research IAF's history.
IAF organizing got its start more than 75 years ago in Chicago. According to IAF's written history, Alinksy, "managed to bridge divisions of ethnicity, religion and political philosophy in the interest of community improvement."
One major change is that Alinsky's model of organizing focused on organizing neighborhoods instead of institutions. Cortés said neighborhoods are important, but, "If you organize around neighborhoods only then people can fall back upon themselves and only think about their particular neighborhood."
Block said the church, whose mission is the salvation of souls, can do more to promote a healthy society.
"Where Catholicism has flourished so has social justice activity flourished," reflects Block, "When you drop the mission of the church, and you just turn the church into a political or social service organization [so] even when it hits the mark it is only a Band-Aid."
[Kit Cross is a Catholic freelance writer based in the Washington, D.C., metro area.]