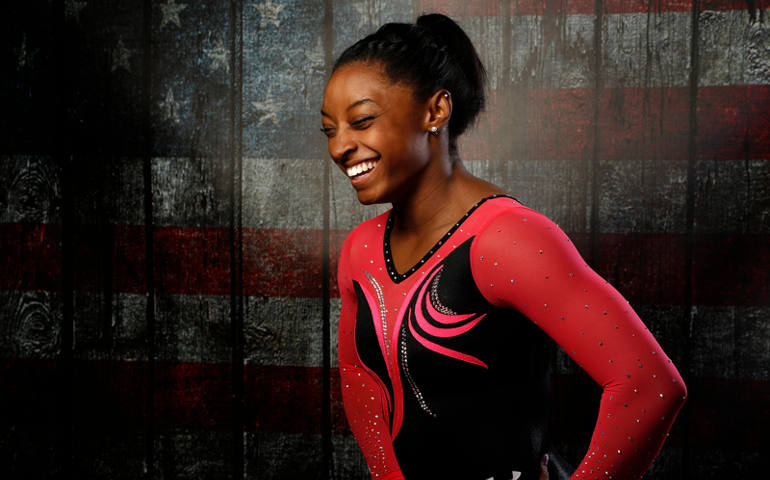 Gymnast Simone Biles laughs as she poses for a portrait at the U.S. Olympic Committee media summit in Beverly Hills, Calif., on March 7, 2016. (Photo courtesy of REUTERS/Lucy Nicholson)
On the seventh day, Simone Biles rests.
That's the day the world gymnastics champion, who has a clear shot at the medal podium in Rio, goes to church with her family.
Biles, a first-time Olympian, is Catholic. She has said she routinely lights a candle to St. Sebastian, the patron saint of athletes and of Rio, before each meet.
Faith has been a constant in what has otherwise been a challenging young life. Biles, 19, and her three siblings were born in Ohio, but their mother was addicted to drugs and they were adopted by their grandparents in Texas after they were placed in foster care.
Today, she calls her grandparents "mom and dad" and attends church with them when she's not at a meet. She is a four-time national champion and a three-time world champion.
Biles' path to Rio has had hiccups. In 2013, she faltered badly at the U.S. Classic gymnastics meet, falling, stumbling, twisting her ankle and eventually withdrawing.
"I felt like my life was going down the drain," she told Texas Monthly magazine earlier this year.
And while Biles is less public about her faith than some other current and past gymnastics team members -- Shawn Johnson, who competed in Beijing and London, and Gabby Douglas, who returns to Rio for her second Olympics -- her faith was likely a touchstone in her turnaround.
When Us magazine recently asked Biles to upturn and dump her gym bag for a photo, there, between the lip balm and the bottled water and the bobby pins was a white rosary.
"My mom, Nellie, got me a rosary at church," she told the magazine. "I don't use it to pray before a competition. I'll just pray normally to myself, but I have it there in case."