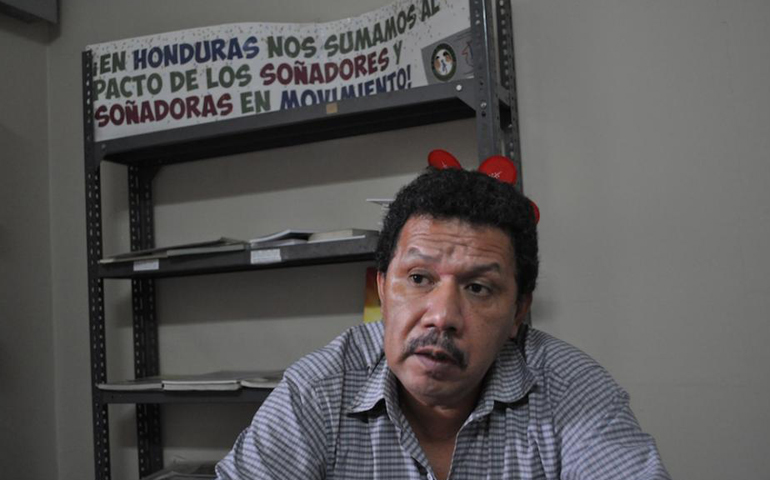 Activist Pedro Landa used to work with Berta Caceres, who was murdered this year. He said he has received multiple death threats for his environmental advocacy. (GSR/J. Malcolm Garcia)
Valle de Siria, Honduras — August 16, 2016
Global Sisters Report is focusing a special series on mining and extractive industries and the women religious who work to limit damage and impact on people and the environment, through advocacy, action and policy. Pope Francis last year called for the entire mining sector to undergo "a radical paradigm change." Read more about Honduras mines and activism, including the involvement of Catholic sisters, in earlier stories by J. Malcolm Garcia.
The San Martin mine in the Valle de Siria region of south central Honduras, 90 miles north of the capital city of Tegucigalpa, has been closed since 2009. But its impact on local communities, people living in the area say, continues to this day.
"The San Martin mine is a clear example of the environmental damage and the consequences for human health from mining," said anti-mining activist Pedro Landa. "The devastation is very tangible although it is closed. When the mountains were cut, they left sulfur bank deposits open. With the rains, the sulfur mingles with the rivers and drinking water. People are sick with skin diseases and cancer." In December more than 200 organizations in Latin America wrote a letter to Canadian Prime Minister Justin Trudeau, calling for greater accountability in Canadian mining operations in their countries. Landa's Fundación ERIC was among the signers.
The legacy of mining operations on health, the environment and social fabric of the community lingers in the area surrounding the San Martin mine region in Honduras, as it does in mining regions across the globe. The economic benefits are largely reaped by others, leaving the cost to the local population. In his encyclical Laudato Si', Pope Francis noted "a true ecological debt exists, particularly between the global north and south, connected to commercial imbalances with effects on the environment, and the disproportionate use of natural resources by certain countries over long periods of time. The export of raw materials to satisfy markets in the industrialized north has caused harm locally, as for example in mercury pollution in gold mining or sulphur dioxide pollution in copper mining."