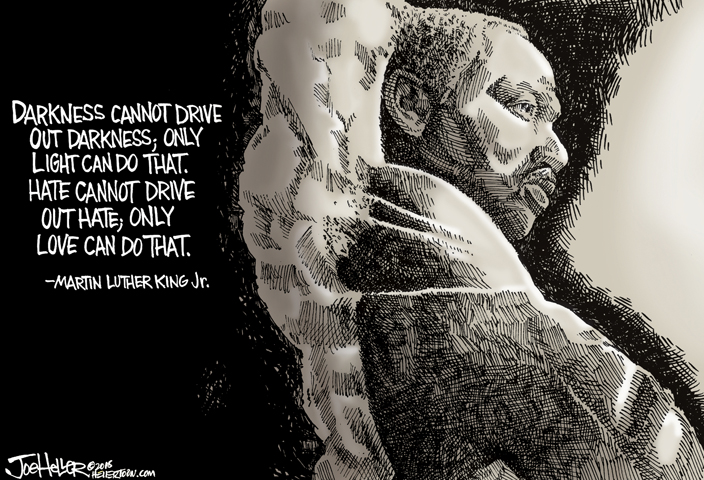 (CNS cartoon/Joe Heller)
As cities and towns prepare to honor Rev. Martin Luther King Jr., the persistence of racism, police brutality and economic exclusion requires a more systematic response from U.S. Catholic leaders. In his address to Congress last September, Pope Francis cited the legacy of King as a way to both reconnect Americans to our "historical memory" and remind us that the struggle for equality continues.
It's easy to praise King's dream of racial inclusivity while glossing over his searing critique of structural injustice, militarism and the way capitalism permits what he called "necessities to be taken from the many to give luxuries to the few." We sometimes prefer King as an icon stored safely behind history's glass case. The temptation to temper his prophetic witness should be resisted. King's life, struggle and death speak to us today. Even in the age of President Barack Obama, the leading cause of death for young, black men is homicide. The killing of unarmed black men, children and women -- Trayvon Martin, Eric Garner, Freddie Gray, Tamir Rice, Sandra Bland and others -- has provoked protests, scrutiny of police tactics and a broader debate over race in America.
What is an authentically Catholic response to the Black Lives Matter movement, mass incarceration, abuse of police power and de-facto segregation in many public schools and communities? There are no easy answers. Even raising the question requires an acknowledgment that something fundamental must change. This takes conscious movement on the part of individuals and institutions that often prefer to avoid hard conversations. Those who benefit from the status quo are not eager to question their realities. It's more reassuring to laud the progress made rather than ask why so many dreams are still deferred.
If bishops, women religious, Catholic university leaders and lay Catholics truly want to honor King's contributions, we must do more than look back and remember. Statements and vigils are not enough. Scrubbing the names from university buildings that give a place of honor to racists carries a symbolic importance, but the collective task of creating new edifices of equality and inclusion -- in our economy, communities and churches -- is a deeper test of our commitment. Pope Francis asks us to take risks and go to the margins. The peripheries of pain, brokenness and injustice are not hard to find but easy to avoid.
Proud history, new challenges
Catholic dioceses, parishes and universities are well positioned to both educate and inspire action.
In the wake of riots after King's assassination, U.S. bishops passed a 1969 resolution that called for the church to support efforts that would help those in poverty "develop economic strengths and political power … through specific projects aimed at eliminating the very causes of poverty."
The U.S. bishops' 1979 pastoral letter, "Brothers and Sisters to Us," named racism as a grave sin. "Racism is an evil which endures in our society and in our Church," the bishops wrote.
Ralph McCloud, director of the Catholic Campaign for Human Development, the U.S. bishops' anti-poverty program, stresses that the past should be acknowledged, but new challenges require a different kind of commitment and creativity.
"The church has a time honored legacy and history in fighting against racism and has distinguished itself by being in the forefront of the civil rights movement," he notes. "That said, the work seems to be eroding and the response of the church, while still present, has not accomplished the same results."
Bishop Edward Braxton, of Belleville, Ill., one of only 15 active and retired African-American bishops, released a pastoral letter, The Racial Divide in the United States, last January. It acknowledges the difficulty of being a police officer, highlights the legitimate fear African-Americans have toward law enforcement, describes the cases of six black men who died after encounters with police and even includes two descriptions of the bishops' own experiences with the police.
"… I was simply walking down a street in an apparently all-White neighborhood," the bishop writes. "A police car drove up beside me and the officer asked, "What are you doing in this area? Do you live around here? Where is your car? You should not be wandering around neighborhoods where you do not live." I never told him I was a Catholic Priest, but I wondered what it was I was doing to attract the attention of the officer?"
At their annual meeting last summer in St. Louis, just miles from the Ferguson protests, the U.S. bishops made reference to the racial tensions roiling the country.
"We mourn those tragic events in which African-Americans and others have lost their lives in altercations with law enforcement," Archbishop Joseph Kurtz, president of the U.S. bishops' conference, said in a statement. "Effective responses, the archbishop noted, must "address root causes of these conflicts."
While some members of the hierarchy speak out, Rev. Bryan Massingale, a Marquette University professor and author of Racial Justice and the Catholic Church, sees complacency in the institutional church. Massingale, who has written about his own experience with police, argues that the church prioritizes "race relations" over "racial justice."
At a symposium hosted by Xavier University in New Orleans, a historically black Catholic college, Massingale sent a clear message.
"People of faith need to understand that 'black lives matter' is a faith issue, that it's rooted in something as old as our belief in creation," he said. "That if God created all of God's children with inimitable dignity, then the church needs to be in the forefront of advancing human dignity, whenever that is threatened or whenever that is undermined."
Protests and progress
When the phone rang in the middle of the night, Fred Pestello, the president of St. Louis University, braced himself for bad news. He was appointed only a month before Michael Brown, an unarmed black teenager, was shot and killed by a white police officer in Ferguson on Aug. 9, 2014. Pestello knew little about St. Louis and barely had time to meet the heads of his academic departments when the head of campus security woke him out of a dead sleep. A thousand protestors were heading toward campus.
In the frenetic days ahead, Pestello stood in the unenviable position of being a new leader steering an institution through a tense period under the glare of national media. The protestors, mostly from outside the campus, set up at the university's clock tower with tents, megaphones and food for a long stay. They held teach-ins that soon attracted sympathetic students and professors. Photos and messages on social media trended on Twitter. "Occupy SLU" became a polarizing force on and off campus. Angry parents wanted the protestors evicted. Wealthy donors were pressuring the president to resolve the crisis. E-mails with racist epithets were not uncommon.
Jesuit principles and Catholic values guided the university's response, Pestello explained in a speech at John Carroll University last year.
"We asked ourselves what would Ignatius do, what would Pope Francis do, what should we do?" he said. "It's not easy to get the space to have those conversations when the phone won't stop ringing and people are afraid for their sons and daughters."
Resisting the initial urge and pressure to remove the protest camp, Pestello and his team found ways to work through difficult dialogue sessions brokered in part by the director of the university's African-American Studies program. After six days, the protests ended with what became known as the "Clock Tower Accords," a document detailing 13 steps the university would take to improve racial inclusion on campus and to help spur economic development in troubled neighborhoods in St. Louis.
"We are enormously stronger because this forced us to confront our values," Pestello said at John Carroll University. "These problems are not unique to St. Louis. They are endemic social problems. The occupation on campus forced us to have deep and meaningful conversations about our mission and values."
Other Catholic universities are also grappling with issues of identity, race and diversity.
At Fordham University, a series of bias incidents -- including a swastika found on a dorm wall and a racial slur carved on a student's door -- heightened attention about the need to address the culture on campus. Last fall, professors and students hosted a day-long teach-in on racial justice attended by nearly 400 people. Priorities identified at that gathering, according to Fordham professor Jeannine Hill Fletcher, include the need for "anti-racist" training for faculty, staff and "the importance of diversity in the make-up of our campus."
Fordham University President Jesuit Fr. Joseph McShane* last month announced the formation of a diversity task force that will study the campus climate and make recommendations to "address the obstacles that have stood in the way of our ability to live up to the ideals that we have (as a Jesuit university) always espoused."
A few weeks before Thanksgiving, several hundred students at Georgetown University announced a demonstration and sit in outside President John DeGioia's office. The students came with a list of demands that included the renaming of two buildings named for school presidents who organized the sale of Jesuit-owned slaves to help pay off campus debts. The university's Working Group on Slavery, Memory and Reconciliation, which includes 16 administrators, faculty and students, approved the change.
---
Related: Two Jesuit names worthier of Georgetown halls
---
"As a university," DeGioia wrote, "we are a place where conversations are convened and dialogue encouraged, even on topics that may be difficult."
Boston College student activists recently made national news for pushing the conversation on race and challenging what they consider a lack of diversity on the board of trustees and among faculty. The group Eradicate #BostonCollegeRacism has used social media and also created a toolkit for campus activists.
Lisa Cahill, a professor of theology at Boston College, credits student activism with refusing to accept silence.
"The biggest step toward racial justice is that racism on campus is actually being talked about," she said. "The experiences of black students, in particular, are being voiced. Aspects of 'white supremacy' in which we are complicit are much harder to 'live with' when the pain they cause is given a face. Shocking instances of direct racism are much more common than I want to believe. We still have a long way to go."
[John Gehring is Catholic Program Director at Faith in Public Life. He is author of The Francis Effect: A Radical Pope's Challenge to the American Catholic Church. You can follow him on Twitter @gehringdc.]
*Fordham University President Jesuit Fr. Joseph McShane was incorrectly identified in the original version of this story.