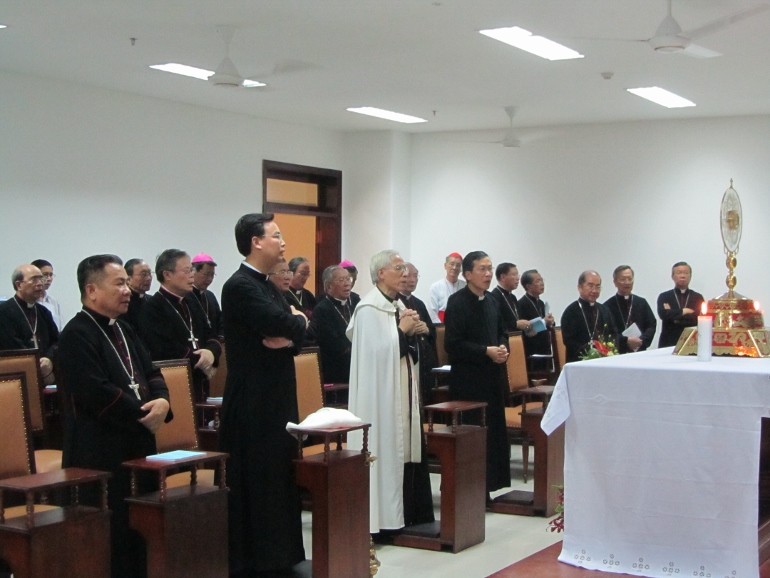 Vietnamese bishops attended a special Eucharist adoration at their new headquarters. (Teresa Hoang Yen)
Ho Chi Minh City, Vietnam — April 24, 2014
At his installation today, the new archbishop of Ho Chi Minh City Archdiocese said bishops need to meet Jesus so as to serve the church effectively.
"Based on Gospel readings, I firmly believe that risen Jesus desperately wants to meet us, bishops who succeed his Apostles. And do bishops want to meet him? I think that (they) want to very much," Archbishop Paul Bui Van Doc told the congregation at his official installation at the Notre Dame Basilica.
Archbishop Doc, president of the Catholic Bishops Conference of Vietnam, recalled that shortly after he had been ordained bishop of My Tho in 1999, a senior bishop told him, "'If a bishop does not meet God, it makes complete nonsense of his episcopate.'"
"I was fully alert to the adequate statement," Doc said. Bishops need to "meet God" in order to understand the Gospel.
Doc, 70, succeeds the 80-year-old Cardinal John Baptist Pham Minh Man, who stepped down March 22 due to his age.
"We need to stay in regular contact with God to know, love and get close to him, so that we can bring you to God as he wishes," Doc noted.
"We want to follow the example of Sts. Peter and John to direct the souls of those we meet to serve Jesus Christ who loved, died for us and rose from death."
He also urged the congregation to "pray much for us, your pastors, to be as good as God wishes, and forgive our own shortcomings," and asked people to live a life of love and service to their neighbors, especially the needy.
Before the ceremony, Doc and local priests prayed at the large statue of Mary, Queen of Peace that stands in front of the basilica. Man greeted him at the basilica's main door and presented him with a crozier and a miter.
Present at his installation were archbishops and bishops from the nation's 26 dioceses and hundreds of priests, nuns and other Catholics.
Vietnamese bishops are attending their biannual meeting held at the Pastoral Center, April 21 through 25. They also inaugurated their newly-built headquarters building on April 24. Seventeen episcopal commissions will be based at the seven-story building. In the past they used Ho Chi Minh City Archdiocese's facilities for their activities.
Ho Chi Minh City Archdiocese is seen as the most active Catholic hub of the church in Vietnam, officially a communist nation.
On the last day of their meeting, local bishops also expected to inaugurate the new cathedral of the neighboring Phu Cuong Diocese.
[Joachim Pham is an NCR correspondent based in Vietnam.]