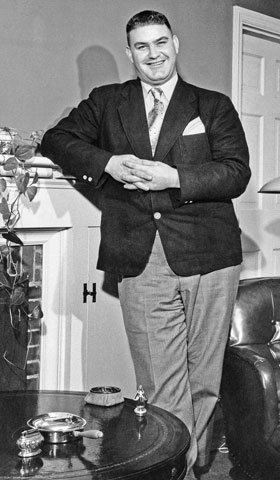 A Life magazine photo of Ferdinand Waldo Demara in 1952, not long after his masquerade as Dr. Joseph Cyr was exposed As the only 'surgeon' aboard, the impostor performed 16 successful surgeries on combat casualties. (AP)
Failing in his attempt to become a Trappist monk, Ferdinand Waldo Demara proceeded to join nearly a dozen other Catholic orders, spanning the whole country. It appears he tried to do some good, but his tricky past kept catching up with him. Demara, you see, was an impostor, and he became so notorious that he eventually would appear in Life magazine.
Demara was born in Lawrence, Mass., on Dec. 12, 1921, to a French-Canadian father and Irish-American mother. It was a solid Catholic household that offered little resistance when, at age 16, he joined a Trappist monastery in Valley Falls, R.I.
In the book The Great Impostor, author Robert Crichton tells how, after two years at Valley Falls, the abbot informed Demara that he was not cut out to be a Trappist. Demara was sent to a Brothers of Charity home near Montreal, before being transferred to a Brothers of Charity home for boys in West Newbury, Mass. There, he was assigned to teach the fourth grade.
Demara and his fourth-graders often eschewed formal classes and instead took spontaneous field trips. He was beloved by the students, but disliked by his superiors.
One day, after a heated argument with the head Brother of Charity, Demara stole a station wagon and went on a joyride, before abandoning the vehicle in Boston, where he then enlisted in the U.S. Army.
Private Demara disliked the Army and longed to join another Catholic order. Assuming the identity of an Army friend named Anthony Ignolia, he went AWOL, surfacing sometime later at the Abbey of Our Lady of Gethsemani in Kentucky.
"Ignolia" really liked Gethsemani, but his time there was short-lived, for he bumped into an old acquaintance from the Rhode Island monastery. This person could reveal his true identity. So Demara went on the road, stopping at the New Melleray Abbey near Dubuque, Iowa, before returning to his Massachusetts hometown, where his father advised his wayward son to turn himself into military police for having deserted the Army. Demara thought about doing so, but instead decided to enlist in the Navy.
Once in the Navy, Demara became annoyed by his inability to climb ranks fast enough. So he fled in the middle of the night, leaving behind a fake suicide note by the water's edge. The following day, with the help of some doctored stationery, he reinvented himself as "Dr. Robert Linton French," a psychologist and recently decommissioned naval officer who was seeking to convert to Catholicism.
Demara (or "Dr. French") made his way to the New Subiaco Abbey in Arkansas. A few weeks into his tenure there, he was summoned to the abbot's office, where he was accused of having forged his documents. Demara denied it to the bone, but he knew his days in Arkansas were done.
A few bus rides later, "Dr. French" arrived at the Clerics of St. Viator in Chicago, where the ersatz psychologist converted to Catholicism. When things flamed out in Chicago, he headed to Milwaukee, where he joined the Order of St. Camillus. As part of this order, he had to cook, and when a priest kept complaining about his culinary failures, Demara threw a tantrum and left.
The next stop was New Jersey, where he entered the Paulist novitiate in Oak Ridge. As "Dr. French," he sent out a series of application letters to small Catholic colleges. Soon, he landed a job interview with Msgr. Joseph Wehrle of Gannon College in Erie, Pa.
By the time the interview was concluded, the fake Dr. French had been given the title of dean of the School of Philosophy. In short order, he was teaching courses in general psychology, industrial psychology and abnormal psychology. He also published a well-received booklet, How to Bring Up Your Child.
The impostor was feeling so comfortable at Gannon that he obtained the approval of Erie's bishop to establish his own "society of pious laymen."
Things were going well, until an unfortunate incident involving forged checks. On the road again, Demara briefly joined the Abbey of St. Bede in Peru, Ill., before journeying to Los Angeles, where he gave "Dr. French" yet another chance, joining the Brothers of St. John of God. Soon realizing there wasn't much need for a psychologist there, he headed to St. Martin's Abbey in Lacey, Wash. At this location, "Dr. French" established the St. Martin's Student Psychological Center.
Before this endeavor could realize its full potential, the FBI tracked down Demara and arrested him for having deserted the Navy in a time of war. This charge carried the potential penalty of death.
Demara threw himself on the mercy of the court, and received a six-year sentence, which ultimately was knocked down to 18 months because of good behavior. Not long after his release, he surfaced in Alfred, Maine, where he presented himself as a zoologist at the Brothers of Christian Instruction.
Ensuing years would see Demara operating behind a colorful progression of identities. Hardly anyone else would have succeeded at such antics. But Demara, though he lacked much formal education, had a high IQ and a seemingly photographic memory. When desiring a new "career," he would obtain a few pertinent textbooks, memorize the required info, and then present himself with bogus credentials and supreme confidence.
Of all Demara's exploits, the most notorious came during the Korean War, when he posed as surgeon Joseph Cyr of the Royal Canadian Navy. As the only "surgeon" aboard the HMCS Cayuga, the impostor performed 16 successful surgeries on combat casualties.
As the wounded arrived, he ordered personnel to carry them to a table and prep them for operation. Quickly disappearing to his private room, he would read quickly on how to perform the next procedure. Then, with icy concentration, he would return to the operating table. All his patients survived.
Such achievement was too remarkable to conceal, and Canadian newspapers ran the account of the heroic talents of "Dr. Joseph Cyr." During Demara's most glorious moment, the real Dr. Cyr was at home in Grand Falls, New Brunswick. The mild-mannered civilian picked up his morning paper and got the shock of his life.
When news reached about his impostor act, Demara unflinchingly assured his captain that he was a real surgeon, maintaining that there was no way an impostor could be so successful at 16 major surgeries. For some time, the captain refused to accept that the man who, before his own eyes, had flawlessly executed drastic chest surgery was a charlatan.
Returning to the U.S., Demara sold his story to Life magazine. Though his subversive stardom was a thrill, such widespread publicity was detrimental to the chameleon lifestyle. Having compromised his own "career path," he increasingly turned to drink.
His ensuing masquerade as a Texas prison warden was curtailed when a stunned inmate encountered Demara's profile in a back issue of Life.
Demara was offered a role as hospital surgeon in the 1960 horror film "Hypnotic Eye." On the production set, it became ironically evident that the brilliant impostor couldn't act to save his life. That same year, Demara's saga was narrated in Crichton's aforementioned biography. In 1961, a film, "The Great Impostor," attained moderate success.
The impostor's later years were far less glamorous. Always on the heavy side, he became severely obese and eventually needed both legs amputated because of diabetic complications. He died of heart failure at age 60 on June 7, 1982. Never having made much money from his endeavors, he admitted that his motivation was "rascality, pure rascality."
[Ray Cavanaugh is a Massachusetts native who enjoys long walks, short novels and colorful characters. He has written for such publications as Celtic Life, History Today and New Oxford Review.]
A version of this story appeared in the July 17-30, 2015 print issue under the headline: Brother, doctor, soldier, lies.