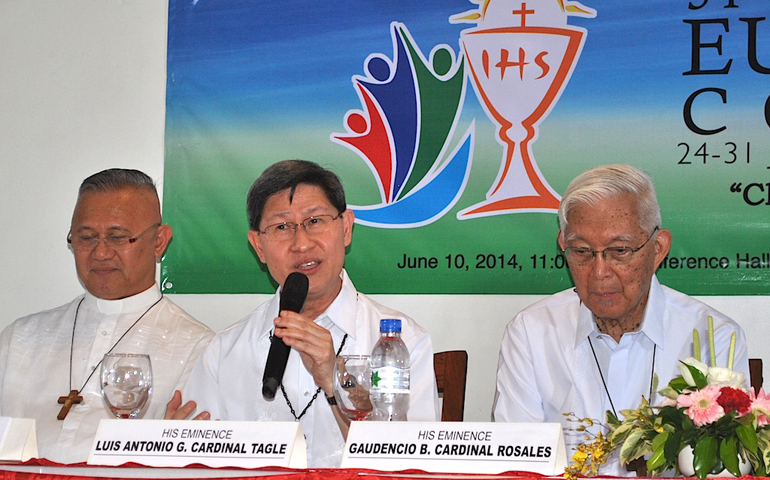 Cardinal Luis Antonio Tagle talks about the upcoming Synod of Bishops on the family at a press conference on the 2016 International Eucharistic Congress. (N.J. Viehland)
For Philippines Cardinal Luis Tagle, the two stages of the Synod of Bishops on the family that Pope Francis will convene in Rome are "hopeful signs" that the church is willing to listen not only to the success stories and joys of families, but also to the difficulties families experience worldwide.
"We see a complex diversity of situations," Tagle told NCR at a June 10 Manila press conference on the 2016 International Eucharistic Congress. "The two stages of the synod are ways of really allowing the families to share their conditions."
The first part of the two-stage Synod of Bishops will be Oct. 5-19 and is an extraordinary synod, with a more restricted number of participants, mostly presidents of episcopal conferences. Tagle is one of three presidents of the synod, along with Cardinal Andre Vingt-Trois of Paris and Cardinal Raymundo Assis of Aparecida, Brazil.
"This meeting in October is meant to clarify the situation of families all over the world, so it's some sort of a scene-setting," Tagle said, adding that it would take into account not only responses to the survey that the Vatican conducted, but the conditions of the family.
The general Synod of Bishops in 2015 will gather a more expanded number of participants from different parts of the world to reflect on the data compiled from the first synod.
"The way the Holy Father formulated it is the vision of humanity, the human person and the family from the perspective of the Christian faith," Tagle said. "Maybe in that synod, the second stage, more specific pastoral directions will be given."
He said he could not speak this early about what divorced Catholics who cannot receive the Eucharist can hope for from the synod.
Tagle told delegates at an earlier meeting on the synod, "We [the church in the Philippines] don't have divorce, but there are couples getting separated."
At the Manila press conference, Tagle recounted the earlier meeting, saying that while some spouses separate because of marital problems, "many of our husbands and wives get separated not because they quarrel with one another [or] because they don't want to live with one another anymore, but because of poverty that leads to forced migration. So it is not a separation because they hate one another. It is a separation because they love."
Philippine law does not allow divorce. However, the Family Code of the Philippines provides for annulment of a legitimate marriage on valid grounds or to void a marriage found to be invalid from the beginning. Spouses may also seek legal separation under extreme cases, such as the jailing of a spouse for a number of years, abuse of family members, alcoholism, drug dependency, forced religious conversion, and others. Exceptions to the law include possible recognition of divorce between a Filipino and a spouse of a different country and couples who are Muslim at the time their marriage is solemnized according with Muslim law.
Pushed apart by poverty
Up to 7.5 million Filipinos are working abroad and some 36 million families are affected by migration trends, Religious of the Sacred Heart Sr. Malen Java reported in her presentation to Philippines catechists gathering last month on "Faces of the Family: The Overseas Filipino Workers Challenge."
"In other words," Java said, "at least a third of the total population will have a father, a mother, a sister, an aunt, a daughter or a son working abroad." In 2001 alone, the Philippine Overseas Employment Administration recorded 866,590 workers abroad, mostly in the Middle East, Asia and Europe.
Emelie Gaje, a 37-year-old who has been an overseas domestic worker for almost 15 years, spoke with NCR on the phone from her employer's home in New Territories, Hong Kong. In 1999, she left her four children -- three with her husband and her youngest with her parents -- to earn a living as a nanny and house help in Hong Kong.
In 2001, she returned home and took her three children from her husband to live with her parents after learning in her weekly phone calls that the children were hungry and their father would get drunk and hurt them. "He [her husband] agreed to my working abroad because he had no other choice. He grew irresponsible. I took the children away because he was always out and he also had friends drinking in our house. It was unsafe for our children who were still so young," Gaje said.
Her husband has left the family since she took the children away. "I did not plan to separate from him, even when I took the children to a safer place. But he has stayed away," Gaje said.
Thriving through separation
Daniel "Panoy" Licardo has been working in Kuwait for the last 24 years in electrical maintenance at the Kuwait Port Authority, returning to the Philippines every few years for a few weeks.
His wife, Evita Licardo, told NCR in Manila that she eventually "got used" to the pain of separation, "though there were times I wished he were here by my side."
Evita Licardo remembers her husband telling her how difficult it is to be working abroad. "But he said he just wanted to give his family a better life," she said. She said she and her husband have agreed that after their youngest daughter graduates, Daniel would come home to Manila.
At the press conference, Tagle said stories of couples "separated out of love" made an impression on Francis. He said, "The Holy Father encouraged me later on saying, 'That voice must be heard again and again.' The pains of people separated from one another because of poverty and because of their love for one another. All these voices hopefully will be heard in the context of hope."
In the Philippines, the Catholic Bishops' Conference of the Philippines conducted the consultations on questions prepared by the Vatican in about 40 of the 89 church jurisdictions, bishops' conference president Archbishop Socrates Villegas told NCR earlier this year. "We could not expect much from the Visayas [a region in the central Philippines] because of calamities in Samar and Leyte provinces, and in other dioceses in Mindanao, southern Philippines."
Villegas said researchers from the Pontifical and Royal University of Santo Tomas, De La Salle University and Adamson University, all Catholic universities, summarized the results and stated that the responses from a number of dioceses were enough to draw a picture of the situation in the Philippines.
Results of Philippines consultations were not published.
[N.J. Viehland is an NCR correspondent based in the Philippines.]