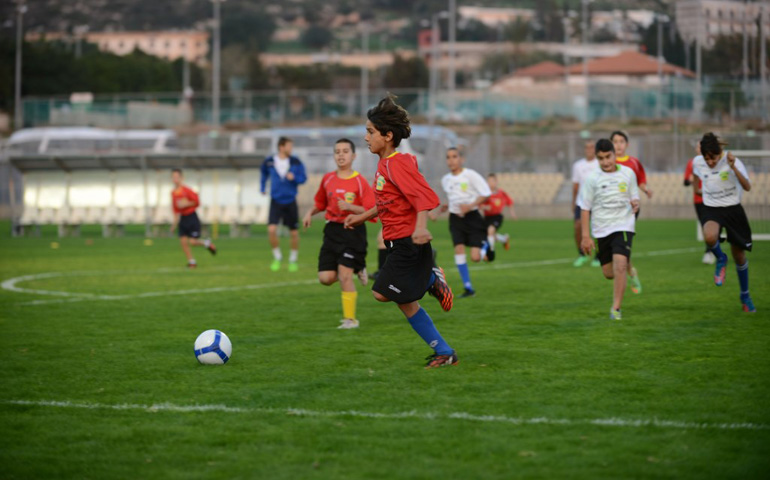 More than 200 young Arab, Druze and Jewish children from communities across northern Israel played in a Dec. 15 soccer tournament to commemorate 100 years since the Christmas Truce. (Courtesy of the British Embassy/Ben Kelmer)
Haifa, Israel — December 20, 2014
It was Christmas Eve 1914. Soldiers were dug deep into the trenches of World War I across Europe. The hope that the war would be over by Christmas disappeared as the temperatures dropped across the Western Front, and a sense of despair settled over the soldiers.
And then, on Christmas Eve, strange things began to happen. On a few battlefields, the Germans decorated their front line with Christmas trees and candles. Melodies of carols began to drift from the British camp, loud enough for the Germans to hear, and some of them joined in.
When the sun rose, the soldiers at these battle sites spontaneously and informally agreed to a daylong truce.
Soldiers emerged from the trenches and walked tentatively into the no man's land between their front lines. They exchanged gifts and jokes with their counterparts, swapping cigarettes and rations. Someone produced a soccer ball, and soon there was a British-German informal soccer game. The story of the Christmas Truce, or the Christmas Football Truce, is a popular holiday story in Europe, highlighting a moment of hope in a dark and dreary war.
Across Europe, a number of countries have organized events to commemorate the 100th anniversary of the Christmas Truce. In Belgium, they had re-enactments, complete with soccer games featuring teams from the German and Welsh armies. Prince William dedicated a statue honoring the truce at the National Memorial Arboretum, and Belgium also hosted a soccer tournament for youth from across Europe.
To bring the message of the Christmas Truce to the world outside Europe, British consulates in 25 countries around the world organized soccer matches. The counterparts at the German embassies sometimes joined in the games at consulates in Tunisia, Japan, Croatia, Slovakia, Slovenia, Macedonia, Cyprus, and the United States, among others.
In Israel, a youth soccer competition captured the true spirit of the Christmas Truce as Matthew Gould, the British ambassador to Israel, oversaw a tournament of more than 200 Arab and Jewish students from the Haifa region of northern Israel on Dec. 15.
"Just for a short moment, the [soldiers] put all their differences to one side to find a spark of shared humanity," Gould said as the kids took the field. "Jewish, Arab, and Druze are coming together here to play football, which breaks down barriers between communities. It is a really lovely way to remember what happened 100 years ago."
In Israel, the Christmas Truce soccer tournament was especially poignant, coming on the heels of the summer war in Gaza and the ongoing violence and terror attacks concentrated in Jerusalem. Relationships between Jews and Arabs are at one of the lowest points in the past decade and show little signs of improving in the near future.
"Right now, we're not just in a crisis situation, we are in a total and utter collapse," said Zouheir Bahloul, a well-known Arab-Israeli soccer announcer on Israel Radio. "Here, we have an island of equality, and we need to develop projects like this ... especially at this age. This is when we can change the next generation."
A number of professional soccer players from Maccabi Haifa and Maccabi Tel Aviv teams also joined the tournament in support of the concept of peace and tolerance through sport.
"In the current situation, I think sport can unite anew the different populations in Israel," said Mahran Radi, an Arab-Israeli who plays centerfield with Maccabi Tel Aviv. "There is no easy or correct way to do this, but soccer is the most popular thing in the world."
The kids from northern Israel agreed.
"I came to play soccer, because on the field it doesn't matter if you're black or white, we play soccer together," said Oren Rafaeliov, 11, from the Israeli Jewish suburb of Tirat HaCarmel.
"I learned that it doesn't matter if someone is Arab or not, you need to give them respect," added his teammate, goalkeeper Liran Agronov, 10.
"I came because I wanted to play and have fun and make new friends, and meet people from other schools," said an 11-year-old Druze named Siraj Nassar al-Din. He is the goalkeeper for the opposing team from Dalat al Karmel, a Druze-Muslim village 15 miles to the east.
"I'm really happy to be here because we get to meet new people ... We're all in this together, holding hands," added Said Fahmoni, a 10-year-old Muslim also from Dalat al Karmel.
Maccabi Haifa player Dekel Keinan said he was not surprised that soccer was used in Europe 100 years ago between soldiers at war and today to encourage dialogue between Jews and Arabs.
"Soccer, then and now, is a really good way to communicate," he said. "It's an international language."
In 1914, the informal truce enraged British officers, who worried that caroling with the enemy would be bad for morale, since the British soldiers were expected to kill the German soldiers, not sing with them. After the Christmas Truce, there were no other informal truces. The war lasted another four years, ending on Nov. 11, 1918.
"We don't want to emulate everything from WWI," Gould, the British ambassador, said. "It was an odd moment, very unusual, that didn't last. But you can draw a small lesson from this, to build friendships across dividing lines."
A BBC documentary examining the truce noted that Brits may have embellished the story a bit. The truce was not completely spontaneous: Weeks earlier, Pope Benedict XV had proposed a "Truce of God" in which all hostilities would cease over the Christmas period, though the armies disagreed and it was not implemented. While some British and German soldiers, mostly in Belgium and northern France, did play, meet and sing carols rather than fight, other battlefields continued the regular business of war as usual. There is also disagreement over how much soccer was actually played. But the Christmas Truce has remained a staple of holiday stories in Europe, especially its connection to soccer.
Back in Haifa, the sun set over the Mediterranean and the floodlights went on. Two hundred children wearing brightly colored shirts fought to take pictures with the famous soccer players then dashed to their positions on the field. Coaches shouted instructions to their players, one sideline yelling in Arabic and the other sideline yelling in Hebrew. From behind the goal, the Hebrew and Arabic instructions to their players sounded exactly the same.
"Peace will not happen with a signature on an agreement," Bahloul, the soccer announcer, said as he watched a game. "The most important thing that can happen is that enemies can meet each other, here, on the playing field."
[Melanie Lidman is Middle East and Africa correspondent for Global Sisters Report, a project of NCR. She is based in Israel.]
A version of this story appeared in the Jan 2-15, 2015 print issue under the headline: Soccer tournament emulates WWI Christmas Truce.