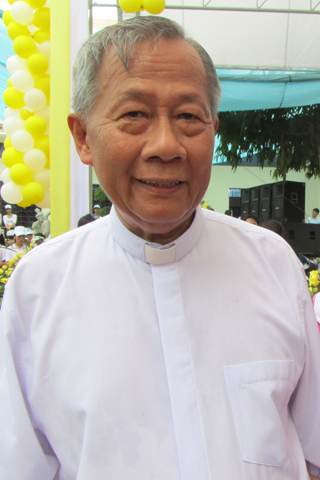 Mgsr. Petro Nguyen Van Tai (Mary Nguyen)
Ho Chi Minh City, Vietnam — April 24, 2015
Vietnamese Msgr. Pietro Nguyen Van Tai will be remembered as a successful communicator who spent all life serving the church in Asia for decades.
Tai died of abdomen cancer Tuesday at age 67 in a hospital in Ho Chi Minh City. His funeral Mass was scheduled for Friday at the Assumption Cathedral of his native Vinh Long diocese.
He was considered the cornerstone or one of the pillars of Radio Veritas Asia, the 45-year-old continental short-wave radio station owned and operated by the Federation of Asian Bishops' Conference in Manila, Philippines.
"He was a jack of all trades and he was instrumental in shaping various policies and activities of RVA as a natural leader and mediator" for more than 36 years, RVA said.
Tai started his career as a program producer of Vietnamese broadcasts in 1978, then held other senior positions, including coordinator of the Vietnamese language service and program director of RVA's 16 Asian language services.
He was appointed as priest-in-charge for Vietnamese refugees flocking to the Philippines to avoid persecution from Vietnamese communists after the end of the Vietnam War.
"Tai took various initiatives in communicating good news values to people and especially nurturing faith life among Vietnamese Catholics in difficult times without ministers," said Fr. Anthony Nguyen Ngoc Son, a close friend of Tai's.
Son said Catholics, including ethnic minority communities throughout Vietnam and especially in places without priests or religious, regularly gathered at homes to listen to church news, catechism, hymns, prayers aired by RVA and "attending" aired Masses celebrated by Tai on Sundays to keep their faith alive.
Joseph Nguyen Tien Hiep, a former lay missionary based in Yen Bai province in northern Vietnam, said through Vietnamese programs produced by Tai, Catholics remain true to the church, update themselves on church developments and get close to God. Many others have been inspired by his services and embraced Catholicism, he added.
Even today, government authorities have not yet allowed priests to give regular ministries to Catholics in northern provinces of Dien Bien, Lai Chau and Son La.
Hiep said "many Catholics still often listen to reflections and church news aired by RVA, and Dang The Dung [Tai's penname] is very popular among listeners."
Son, who was with Tai before he died, described his friend as a priest who lived a humble, gentle and simple life who always smiled and brought joy to other people.
Son said although he was based in the Philippines, Tai helped develop the church in Vietnam by asking for scholarships from foreign charitable organizations and granted hundreds of Vietnamese priests and religious to study further in the Philippines.
Born in southern Tra Vinh province in 1947, Tai graduated from Pius X Pontifical College in Dalat and was ordained a priest in 1973. He obtained a doctorate in philosophy from Pontifical University of Urbaniana, Rome, in 1978 and was tasked with RVA's Vietnamese language service since then.
[Joachim Pham is an NCR correspondent based in Vietnam.]