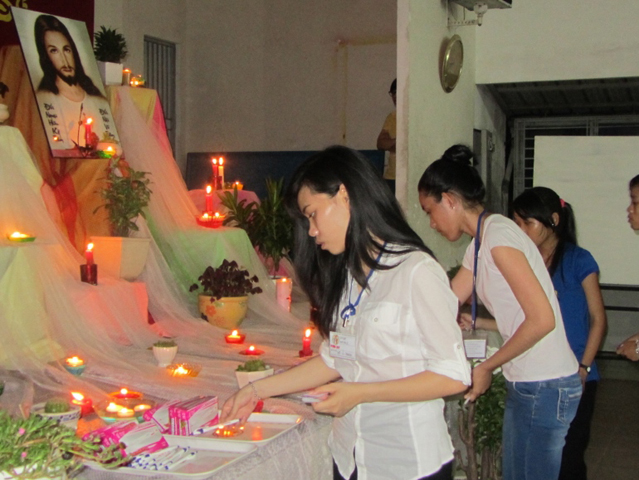 Candidates wrote down their wishes on pieces of paper and offered them Jesus through prayer. (Teresa Hoang Yen)
Ho Chi Minh City, Vietnam — August 8, 2014
Although all religious schools, including Catholic and Buddhist ones, have been banned from providing educational services for nearly 40 years since the end of the Vietnam War, Catholics in southern Vietnam unite to provide material and emotional support to candidates taking annual college entrance exams.
Fifty-six parishes, convents, monasteries and Catholic households in Ho Chi Minh City offered free accommodation, travel and food to 15,000 exam candidates from other provinces. People come to the city during July to take costly and stressful exams in order to get into the many universities and colleges based there.
The Ministry of Education and Training (MOET) recorded that 1,427,211 candidates nationwide took the three separate college entrance exams held July 4-5, 9-10 and 15-16 to get into one of about 500 universities and colleges. However, some of these schools may not be proper educational institutions because some are designed only to make money and do not offer even the basic courses required by MOET.
Fr. Joseph Pham Ba Lam, pastor of Hoa Hung parish, told NCR that the parish hosted an estimated 500 exam candidates and their relatives. They came from rural areas and stayed in the parish house's halls. Since many of the young people had never visited the city before, their parents came with them.
Lam said parishioners served them meals and took students to their exams on motorbikes without charge. The parish spent 200 million dong (U.S. $9,524) to do this. Very few charitable activities are allowed in Vietnam outside of the immediate church grounds, so this endeavor is one of the largest of the year. It also gives people the opportunity to do something useful for students.
The priest also celebrated special Masses to pray for candidates to do well on their exams.
"Through our work, we want to express our goodwill to cooperate with the government in educating young people," he noted. The parish has served exam candidates for the past six years.
He said the program also teaches young people how to live a meaningful life, to "study hard today and serve society tomorrow."
Mary Pham Thi Nguyet from the southern province of Ba Ria Vung Tau stayed with her mother at the parish house for five days.
"After we returned home, my mom gave the 2 million dong we had borrowed back to our neighbor. We are happy we didn't spend any money during my exams; the parish covered all our expenses," Nguyet said.
Nguyet said she would not have been able to attend the exams without the church's generous help. Her mother only earns 40,000 dong a day as a used-item scavenger to support her and her grandmother. She said the parish also promised to give her a scholarship if she passed the exams.
The program aims to give poor students, regardless of their backgrounds, access to higher education. It also teaches young people lessons in serving others and creates communication between people living in urban and rural areas.
The gap between rich and poor has been widening since the communist country adopted market-economy policies in 1990s. Rich families and government authorities can afford to send their children to study in leading schools abroad. Some attend internationally designed high schools in Vietnam. In 2013, there were 13,000 Vietnamese students studying in America, mostly at community colleges.
[Joachim Pham is an NCR correspondent based in Vietnam.]