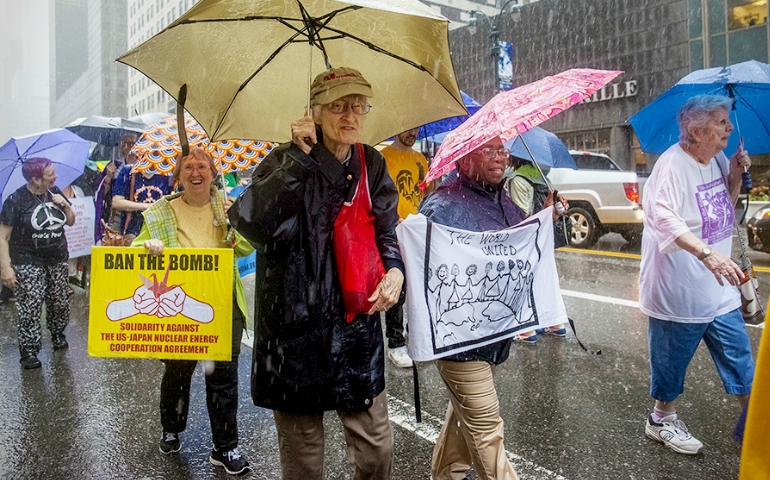 Maryknoll Sr. Jean Fallon, 87, left, marches June 10 with fellow Maryknoll Sr. Elizbaeth Zwareva near the United Nations prior to the start of the June 15-July 7 session. (Provided photo)
Catholic sisters and other peace activists who have worked decades to end the nuclear threat lauded an agreement reached July 7 by 122 countries at the United Nations that outlaws nuclear weapons.
For longtime activists like Srs. Carol Gilbert and Ardeth Platte, Dominican Sisters of Grand Rapids, Michigan, the agreement — which nuclear states like the United States have said they "do not intend to sign" — is a milestone in activists' long, committed, vigilant but often lonely efforts.
They and other veteran activists were jubilant after the vote of participating nations at U.N. headquarters in New York, though they were quick to add that the vote has to be seen as another step, though a crucial one, in a long journey by those who want to get rid of the weapons that threaten humanity and the planet.
"I am going to spend the rest of my life to get the U.S. on board this treaty," Platte, 81, told GSR in an interview at U.N. headquarters shortly after the vote, the culmination of several sets of meetings that began earlier this year.
The agreement was approved by 122 countries; none of the nuclear powers participated in the drafting of the treaty and did not vote on it. One country, the Netherlands, opposed it, citing NATO commitments, and another, Singapore, abstained. The agreement says the use or threat of using nuclear weapons violates international law, as does the "undertaking to develop, test, produce, manufacture, acquire, possess or stockpile nuclear weapons or other nuclear explosive devices," the U.N. News Service reported.
In its statement of support, the delegation from the Holy See said the treaty represents a position on nuclear disarmament that the Vatican has supported since the end of World War II. The Holy See also announced it would host two conferences on nuclear disarmament this fall in Rome.