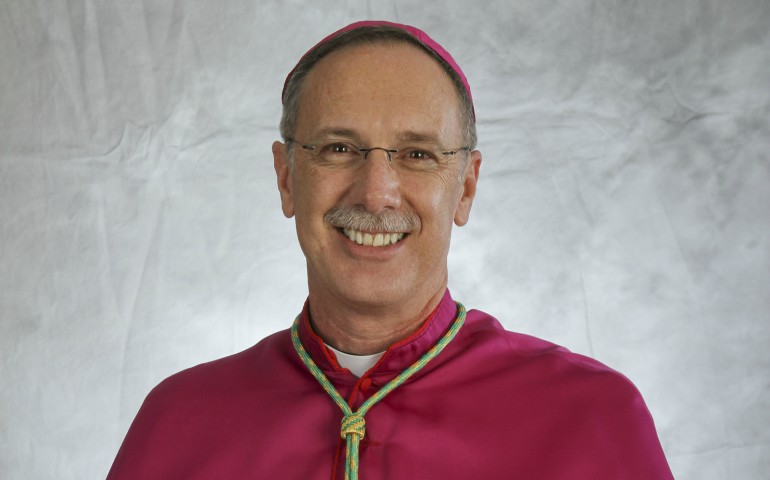 Atlanta Auxiliary Bishop Luis R. Zarama is seen in this 2013 file photo. Pope Francis named the Atlanta auxiliary bishop to head the Diocese of Raleigh, N.C. (CNS photo/Michael Alexander, Georgia Bulletin)
Washington — July 5, 2017
Pope Francis has named Atlanta Auxiliary Bishop Luis R. Zarama to head the Diocese of Raleigh, North Carolina.
He succeeds Bishop Michael F. Burbidge, who last October was named to head the Diocese of Arlington, Virginia, where he was installed Dec. 6.
Zarama, 58, has been an Atlanta auxiliary bishop since 2009. A native of Colombia, he was ordained a priest for the Archdiocese of Atlanta in 1993.
The appointment was announced in Washington July 5 by Archbishop Christophe Pierre, apostolic nuncio to the United States.
Zarama will be installed as Raleigh's sixth bishop Aug. 29 at Holy Name of Jesus Cathedral.
"Pope Francis in today's appointment has honored the Archdiocese of Atlanta with the gift of Bishop Luis R. Zarama to become the new bishop of Raleigh," Atlanta Archbishop Wilton D. Gregory said in a statement. "How fortunate that the local church is to receive such a devoted and generous servant minister."
"The Holy Father has chosen well even though his decision takes a deeply beloved brother and friend from our midst," he added.
Gregory said he joined with Bishop-designate Bernard E. Shlesinger, named an auxiliary bishop for Atlanta in May, and all the clergy, religious and laypeople of the archdiocese "in assuring Bishop Zarama of our prayers and warmest best wishes." Bishop-designate Shlesinger is a Raleigh diocesan priest.
"I am proud to call him a brother bishop and good friend," Burbidge said of Zarama, whom he described as "a holy, faithful and joyful bishop."
Zarama is "known and respected for his pastoral skills, administrative abilities, zeal and kindness," Burbidge said. "I have assured Bishop Zarama that he will be truly blessed with the support of such good priests, consecrated religious, deacons, seminarians, colleagues and lay faithful in the Diocese of Raleigh."
Luis Rafael Zarama was born in Pasto, Colombia, Nov. 28, 1958. He attended the Conciliar Seminary in Pasto, where he graduated from high school. He attended Marian University, also in Pasto, earning a degree in philosophy and theology. He studied at the Pontifical Xavierian University in Bogota, Colombia, where he earned a degree in canon law. He was a philosophy and theology professor at the Carmelites School, the Learning School and the Colombia Military School for 11 years.
He was a priest of the Archdiocese of Atlanta Nov. 27, 1993. Then-Father Zarama's first assignment was as parochial vicar at Sacred Heart of Jesus Catholic Church in Atlanta. He also was a member of the Vocations Committee.
He was the first Hispanic priest in the archdiocese to be named pastor of St. Mark Catholic Church in Clarksville, Georgia, and St. Helena Mission in Clayton, Georgia.
He became an American citizen July 4, 2000. He was named vicar general of the archdiocese in April 2006. A year later Pope Benedict XVI named him a monsignor.
In 2008 he was appointed to serve as the judicial vicar for the Atlanta Archdiocese's Metropolitan Tribunal. In July 2009, Benedict named him an auxiliary bishop of Atlanta. His episcopal ordination was Sept. 29, 2009.
The Diocese of Raleigh covers 32,000 square miles. Out of a total population of over 4.8 million, there are just over 231,000 Catholics.