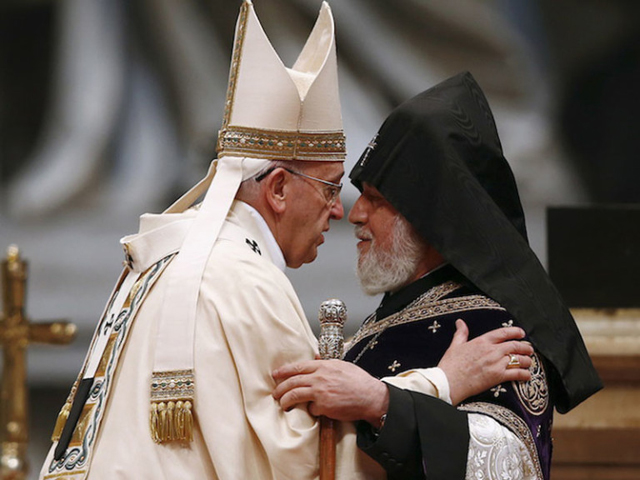 Pope Francis embraces Catholicos of All Armenians Karekin II during a mass on the 100th anniversary of the Armenian mass killings, in St. Peter's Basilica at the Vatican April 12, 2015. (Reuters/Tony Gentile)
Vatican City — May 16, 2016
Pope Francis will visit the Armenian Genocide memorial complex during a three-day visit to the country in June, a move that may strain the Vatican's diplomatic relations with Turkey.
The pope will travel to the Tsitsernakaberd site in southern Armenia on June 25, spending an hour at the memorial, the Vatican announced on May 13. The complex commemorates up to 1.5 million Armenians killed between 1915 and 1923 under the Ottoman Empire.
Francis' trip to the site carries huge significance, following the pontiff's description of the killings as "the first genocide of the 20th century."
Turkey's foreign minister, Mevlut Cavusoglu, at the time said the pope's comments were unacceptable.
"Religious offices are not places to incite hatred and revenge with baseless accusations," said Cavusoglu. He also recalled Turkey's ambassador to the Holy See.
Armenia has a population of 3 million, although an estimated 8-10 million people of Armenian descent live outside the country.
An estimated 93 percent of the population affiliate with the Armenian Apostolic tradition, the country's national church, while just under 14,000 are Catholic, according to Armenia's 2011 census.
After the pope's visit to Tsitsernakaberd he will be flown from Yerevan to Gyumri, Armenia's second largest city, where he will hold an open-air Mass in Vartanants Square. Francis will also visit the city's Armenian Apostolic Cathedral of the Seven Wounds and the Armenian Catholic Cathedral of the Holy Martyrs in Gyumri.
Crowds are expected in the capital for the pope's open-air prayer for peace during the evening of June 25. Francis' final day in Armenia will include meetings with religious leaders and the signing of a joint declaration.
The pope's participation in the Divine Liturgy in Yerevan's Armenian Apostolic cathedral is also on the schedule, along with a visit to the Khor Virap monastery, close to the Turkish border.