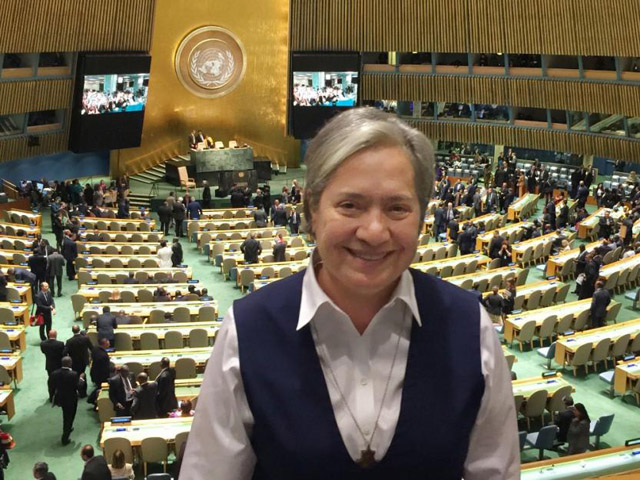 Missionaries of Jesus Sr. Norma Pimentel at the United Nations Sept. 25 during the papal visit. (Provided photo)
Getting an audience with the pope can be a once-in-a-lifetime event. But lately, Sr. Norma Pimentel, executive director of Catholic Charities of the Rio Grande Valley in Texas, has been getting more than her share.
Her first encounter with the pope came during an Aug. 31 town hall, when Pope Francis called to her from a giant television screen parked in the middle of Sacred Heart Church in McAllen, Texas.
"I love you," he told the Missionaries of Jesus sister, praising her work with immigrants along the border.
That event was followed by a flurry of invitations to coveted papal events during his U.S. visit. She sat in the VIP section at the White House, watching President Barack Obama welcome Pope Francis on Sept. 23. After that, it was off to Mass, followed by a trip to New York, where she watched the pope speak to the United Nations Sept. 25. Later, she visited Our Lady Queen of Angels School in Harlem with Sr. Donna Markham, president of Catholic Charities USA. Pimentel finally got to speak directly to the pope Saturday morning, Sept. 26 at the diplomatic residence of the Holy See.