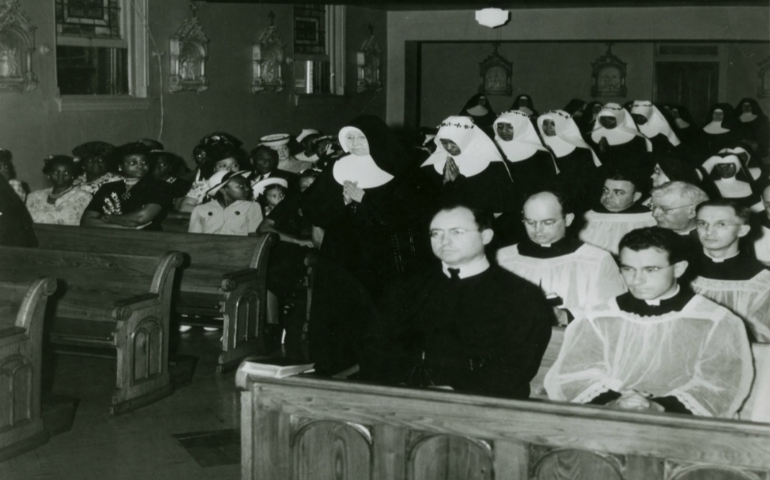 The segregated investiture ceremony of the first five black Sisters of St. Mary (now the Franciscan Sisters of Mary) in St. Louis in 1947, in which Sr. Mary Antona Ebo, who recently died, participated (Provided by Shannen Dee Williams from the archives of Catholic University of America)
When historian Shannen Dee Williams took the stage at the 2016 Leadership Conference of Women Religious national assembly in Atlanta, she had already been working on her book about anti-black racism among Catholic sisters in the United States — Subversive Habits: Black Nuns and the Long Struggle to Desegregate Catholic America — for nine years.
Yet it wasn't until this particular presentation on the ways black women have been excluded from and mistreated by predominantly white religious congregations that white sisters really became familiar with her work. Once she left the stage, Williams said, the invitations to cull previously inaccessible archival material started rolling in.
As of fall 2017, five congregations have opened up their archives to Williams: the Sisters of Mercy, the Dominican Sisters of Peace, the Sisters of Charity of New York, the Loretto Community and the Sisters of St. Joseph of Baden, Pennsylvania. In fact, so much new information became available that Williams had to postpone the deadline for her book.
Immediately following her presentation, Williams also started receiving invitations to speak at various motherhouses; women who heard her presentation at the LCWR assembly were eager to share this history with their wider sisterhood.
For Williams, this wave of interest in her work epitomizes the complex relationship white women religious have with anti-black racism. White sisters seem to be the members of the Catholic Church most open to a process of self-reflection when it comes to racism, and yet anti-blackness has been a defining feature of religious life in the United States. Williams says it's no accident that some of the formal policies that kept black women from entering certain religious communities were upheld through the 1980s.