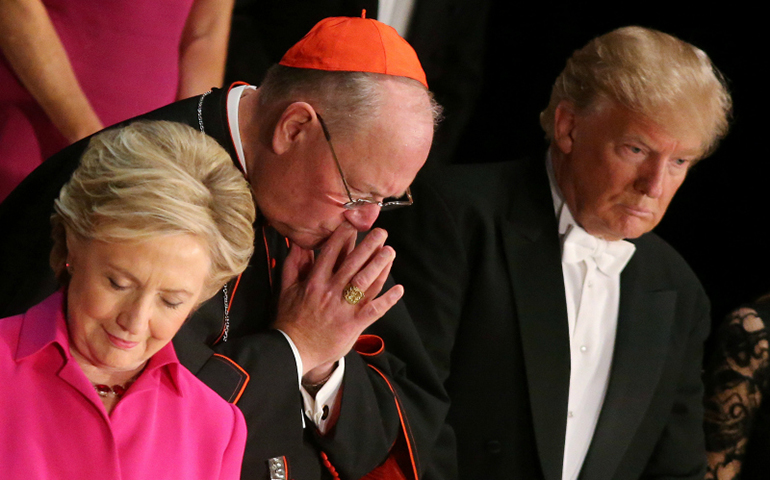 Hillary Clinton, Archbishop of New York Cardinal Timothy Dolan and Donald Trump pray as they attend the Alfred E. Smith Memorial Foundation dinner to benefit Catholic charities in New York. (Photo courtesy of Reuters/Carlos Barr)
Donald Trump and Hillary Clinton shared the stage at a charity dinner Thursday night, and while there were moments of civility between the two presidential candidates, at other times there seemed to be more hostility in the air than during the previous night's debate.
The annual white-tie affair has historically been a place for the presidential candidates to make some good-natured jokes. Like many things related to this election, the dinner did not go according to tradition.
---
Related: "Trump, Clinton to trade jokes instead of barbs at Al Smith dinner" (Sept. 29, 2016)
---
Trump took the stage first and his early jokes played well. The best-received one made light of the accusations of plagiarism that hit Melania Trump after her speech at the Republican convention.
"Michelle Obama gives a speech and everyone loves it. It's fantastic. They think she's absolutely great," Trump said. "My wife Melania give the exact same speech and people get on her case. And I don't get it."
But things started to go off the rails when Trump called Clinton corrupt. "Hillary is so corrupt she got kicked off the Watergate commission. How corrupt do you have to be to get kicked off the Watergate commission?" Trump joked.
And the boos began.
The boos got louder when Trump joked, "Here she is in public, pretending not to hate Catholics." The joke was an apparent reference to one the emails released by Wikileaks.
Clinton got in several jabs of her own, although she didn't draw out the boo birds.
"People look at the Statue of Liberty and they see a proud symbol of our history as a nation of immigrants; a beacon of hope for people around the world," she said. "Donald looks at the Statue of Liberty and sees a 'four.'"
Here are some of the responses the uncomfortable dinner got on Twitter:
Well, at least they shook hands at the end.