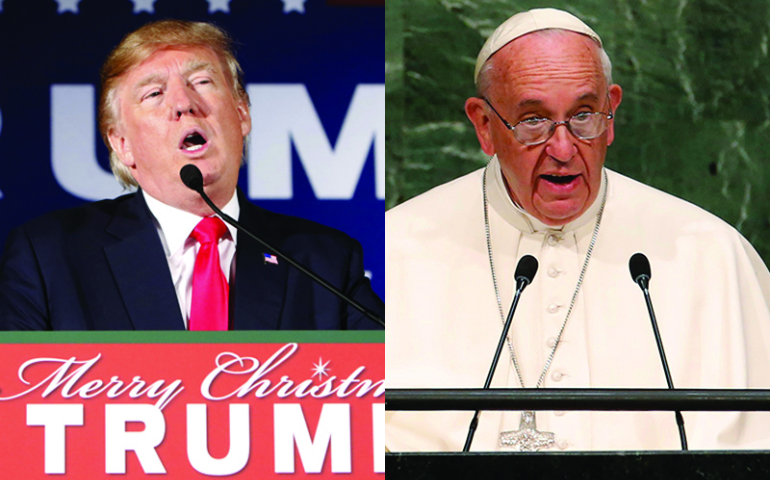 (Left) U.S. Republican presidential candidate Donald Trump speaks at a campaign event at the Veterans Memorial Building in Cedar Rapids, Iowa, on December 19, 2015. (REUTERS/Scott Morgan) (Right) Pope Francis addresses a plenary meeting of the United Nations Sustainable Development Summit 2015 at United Nations headquarters in Manhattan, New York, on September 25, 2015. (REUTERS/Mike Segar)
Washington — April 19, 2017
The White House said Tuesday it is reaching out to the Vatican to set up a possible meeting President Trump and Pope Francis, little more than a year after they clashed over Trump's proposed anti-immigration wall between the United States and Mexico.
"We will be reaching out to the Vatican to see if an audience with the pope can be accommodated," White House spokesman Sean Spicer said. "We would be honored to have an audience with his holiness."
Vatican spokesman Greg Burke told AFP that, "as of the end of last week we had not had an official request for an audience but for sure we would welcome it."
Trump is scheduled to be in Italy in late May for a Group of Seven nations summit in Sicily. The Italy trip follows a stop in Brussels, Belgium, for a NATO summit.
While it is not unusual for presidents to meet with popes — the last 11 have done so — there is some political history between Trump and Francis.
In February of 2016, during Republican primary season, Francis appeared to reference Trump and Mexico as he told reporters: "A person who thinks only about building walls, wherever they may be, and not building bridges, is not Christian."
Trump fired back by saying, "for a religious leader to question a person's faith is disgraceful."