A version of this story appeared in the April 8-21, 2016 print issue under the headline: "Vatican diplomat promotes Laudato Si'".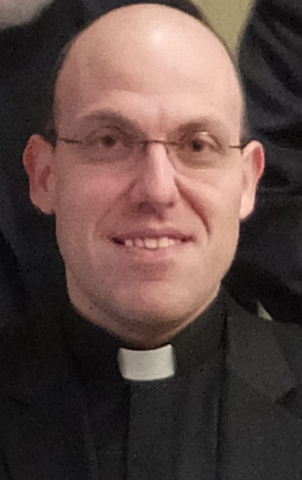 Pope Francis places flowers at a wooden cross at the border between Mexico and the U.S. in Ciudad Juarez, Mexico, Feb. 17, 2016. (CNS/Reuters/Max Rossi)
Hasbrouck Heights, N.J. — April 14, 2016
Within days of the issuance of Pope Francis' encyclical on the environment last June, the Permanent Observer Mission of the Holy See to the United Nations was busy fielding calls, meeting U.N. delegates and staff and handing out copies of "Laudato Si', on Care for Our Common Home."
The Holy See's U.N. office has distributed some 1,000 copies of the document. While most have been in English and Spanish, many were given in French and a few in Italian, noted the first secretary of the mission, Msgr. Joseph Grech.
Distribution took place at U.N. headquarters in New York and at the office of the Organization of American States in Washington, D.C.
Excitement about the document stemmed not only from press releases and leaks before the encyclical was officially unveiled June 18, 2015, but from a presentation Cardinal Peter Turkson of Ghana gave June 30 to some 500 U.N. delegates and dignitaries. He was joined by Archbishop Bernardito Auza, Vatican nuncio to the U.N.; Archbishop Demetrios of the Greek Orthodox Archdiocese of America; and Fr. John Chryssavgis, a Greek Orthodox cleric and environmental adviser to Ecumenical Patriarch Bartholomew of Constantinople.
Turkson, the principal first drafter of the document, continues to present the encyclical to audiences worldwide. He spoke about it to students and faculty at Seton Hall University in South Orange, N.J., in February. At the U.N. and at Seton Hall, the cardinal noted Francis had been involved in every stage of the drafting and editing.
The U.N. is a natural habitat for dialogue on Laudato Si', Grech said in an interview with NCR.