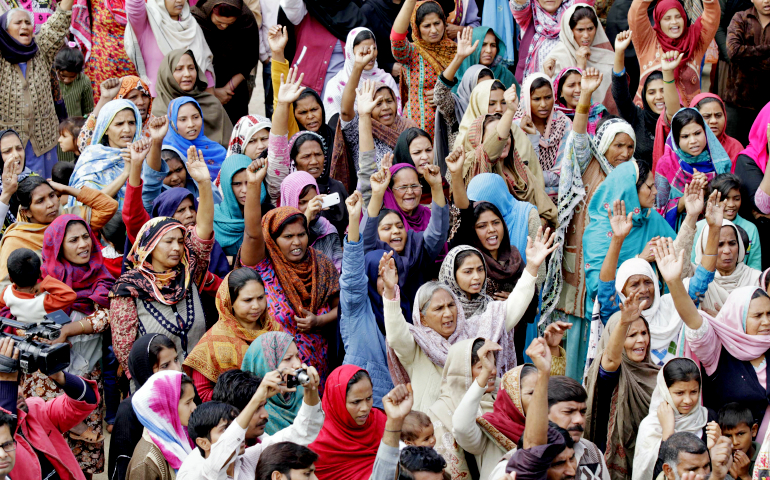 Pakistani Christians protest in March 2015 in the aftermath of two suicide attacks that targeted two churches in Lahore. (CNS/EPA/Rahat Dar)
Brooklyn, N.Y. — May 2, 2017
Coming amid a cycle of terrorist attacks in Europe, the Easter Sunday 2016 bombing against Christians and others celebrating the holy day in Lahore, Pakistan, made little media impact in the United States.
But Sebastian Francis Shaw, the Catholic archbishop of Lahore, remembers the horrors of that day. More than 70 were killed and 340 wounded in an act intended to destroy a festive Christian event in a public park.
He was home at the time of the incident, arriving the next day at a hospital caring for victims. A security officer gave him a list of Christians who were recovering. The archbishop rejected it.
"I am not here for Christians. I am here for victims. They are all human beings," the archbishop told the security officer, requesting that he be allowed to see Muslims and others who were hurt in the attack.
The incident illustrates the outreach of a minority church in a predominantly Muslim country, which includes elements uneasy with any Christian presence in the nation. Pakistan was founded as a haven in 1947 for Muslims on the subcontinent after independence from Britain. Christians make up only 2 percent of the population.
The archbishop spoke to NCR April 25 in the midst of a weeklong American tour, during which he visited the U.S. headquarters here of Aid to the Church in Need, an agency supporting the Catholic Church in poor and difficult circumstances. He also spoke at a conference in Washington, D.C., on religious freedom, visited with Pakistani priests serving American parishes, Pakistani Catholics in New York and New Jersey and Cardinals Timothy Dolan of New York and Joseph Tobin of Newark, New Jersey.
No one has been prosecuted for the Easter 2016 attack. Catholics and other Christians suffer various indignities and are forced into extreme security measures. Entrance to Sunday Mass at the Lahore cathedral includes passing through airport-like scanners and security checks. But Shaw emphasized that Christians in Pakistan continue to practice their faith.
As the leader of 400,000 Catholics in his archdiocese, Shaw — he is Pakistani, his Anglo-sounding last name being derived from his ancestral name — emphasized that while they live under the threat of violence, Catholics have long been a part of the fabric of Pakistani life.
Much of the country's leadership, including the current president and many of its top military brass, were educated in Catholic schools. The founders of Pakistan respected religious freedom, although that original vision has been threatened by Islamist extremists.
"In day-to-day life, the majority of people live without problems, Hindus, Muslims and Christians," said the archbishop. The government provides security for Christians who encounter threats, and the archbishop participates in regular dialogue with sympathetic Muslims, Hindus, Sikhs and other religious leaders.
Yet Pakistan's blasphemy laws — intended to protect Islam — are sometimes used to settle personal scores. One recent case involved a Christian couple accused of burning the Quran. A mob attacked and killed them. Further investigation revealed that the couple was illiterate and had no idea of the religious component of the papers they burned.
Sometimes, blasphemy laws are used as a weapon in business disputes.
Amid this atmosphere of extrajudicial violence, Shaw advises his people on three points: Do not live in fear, do not fight, and live with dignity. And he regularly points out that Catholics in Pakistan are living for a higher purpose.
"You don't know what is going to happen," he said. "You must still be proud of being a Catholic or a Christian. God has a special purpose for you to be born in Pakistan. You can witness to the risen Lord in these circumstances."
Catholics in Pakistan, he said, are devoted to survival and association with others, dialoguing on the virtue of carving out a space for religious freedom.
Some Christians outside Pakistan are quite willing to condemn places like Pakistan where the church faces violence. But Shaw's calm demeanor indicates he is a cautious leader, not seeking enemies. He is more comfortable talking about his ministry to married couples than he is about politics.
"Confrontation will not help," he said, noting that a bellicose approach will only end in violence. "They kill you. You kill them."
Pakistan's Catholics need outside support, said the archbishop, noting one of the purposes of his U.S. tour. That can come in the form of prayer as well as the financial aid provided by agencies such as Aid to the Church in Need.
Funds are needed to build chapels and support schools.
"We need infrastructure," said the archbishop, adding that promoting Catholic culture is a challenge in a Muslim country. One project involved translating the Catholic catechism into Urdu. Like the rest of Pakistan's population, Catholics in the country are predominantly young and in need of education (65 percent are under 35 years of age).
Seminarians are relatively plentiful; this year the diocese expects to ordain 10 priests, and some will work in Europe and North America. Some of the seminarians are studying to be archdiocesan priests; others will be for the Franciscans, of which Shaw is a member.
The outreach from Pakistan's hard-pressed church to the rest of Catholicism illustrates Shaw's basic message to his people: "You are born in Pakistan. But maybe your mission is for the world."
[Peter Feuerherd is a correspondent for NCR's Field Hospital series on parish life and is a professor of journalism at St. John's University, New York.]
We can send you an email alert every time The Field Hospital is posted. Go to this page and follow directions: Email alert sign-up.