In an open letter, 74 bishops from North America, Africa, Italy and Australia have expressed their "growing concern" about the German Synodal Path process and content, warning about its "potential for schism."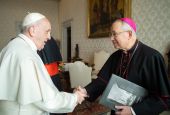 Pope Francis used his June 3 audience and a phone call with the president of the U.S. Conference of Catholic Bishops to express his solidarity and support following days of demonstrations protesting the killing of George Floyd in Minneapolis.
Vatican City -- Cardinal Daniel N. DiNardo of Galveston-Houston. president of the U.S. bishops' conference, struck a determinedly hopeful tone after his long-awaited meeting with Pope Francis to discuss the growing sexual abuse crisis in the United States.