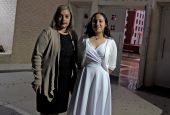 Families came one by one to the baptismal font in a Phoenix church where the Rev. Andrés Arango, whose baptisms up until last summer are presumed to be invalid, poured holy water over the heads of a dozen people in a do-over of the Catholic ritual.
Two children were sexually abused by Catholic priests about 40 years ago in an Arizona parish and the Roman Catholic Diocese of Phoenix covered up the problem, according to newly filed lawsuits.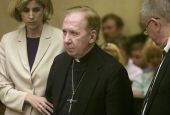 Retired Bishop Thomas O'Brien is accused in a lawsuit of sexually abusing the boy on several occasions at parishes in Phoenix and Goodyear from 1977 to 1982. The Diocese of Phoenix says O'Brien denies the allegation.