A new national protocol for responding to historical child sexual abuse and any new allegations in the Catholic Church in Australia will be more compassionate and just, said Archbishop Mark Coleridge, head of the Australian Catholic Bishops' Conference.
People inside and outside the church are calling on authorities to get to the bottom of mystery funds transferred from the Vatican to Australia.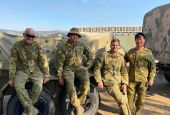 Three Sydney priests have swapped clericals for camouflage.