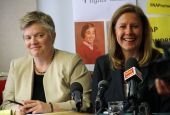 My favored translation of Virgil's saying is, "If you cannot move the upper regions, dare to move the underground." Was this not Barbara Blaine's supreme wager and ethical act? 
Examining the Crisis: Victories, whatever their cause, need to be acknowledged, and forcing the resignation of a Catholic bishop is no small accomplishment.
COMMENTARY
Official history, Camus once observed, is written by those who make history, not those who suffer from it.
Almost 20 years ago, A group of some 30 survivors of childhood sexual molestation by priests and I wrote to Pope John Paul II in painstakingly and excruciating detail of our harrowing experiences of being raped and sexually assaulted as youngsters while attending a boarding school for boys operated by the Capuchin Franciscan religious order in rural Wisconsin. The school, St. Lawrence Seminary, was one of a vast network of such Catholic seminaries across the United States. John Paul was keen to see a massive resurgence of places like St. Lawrence, in which priests raised children to become priests like themselves. Time magazine at the time dubbed our story "The Sins of Saint Lawrence." It's hard to imagine anymore when this kind of headline was novel, but it was. We delivered our letter, along with newspaper clippings, supporting legal documents, and videotaped depositions to the papal nuncio in Washington.
What we were hoping for from Pope John Paul II was justice.