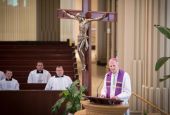 Bishop James Johnston Jr. apologized June 26 to survivors of clergy sexual abuse, their families and the community in the diocese during a special liturgy of penitence.
To protest the anti-Muslim rhetoric of this presidential campaign, high school counselor Martha DeVries decided to wear a hijab in public every Monday to display acceptance of Muslims and refugees.
Even people who knew Anna Kurzweil well wouldn't have guessed she was a millionaire, but she left a $2 million gift for the Jesuits upon her death in September 2012.