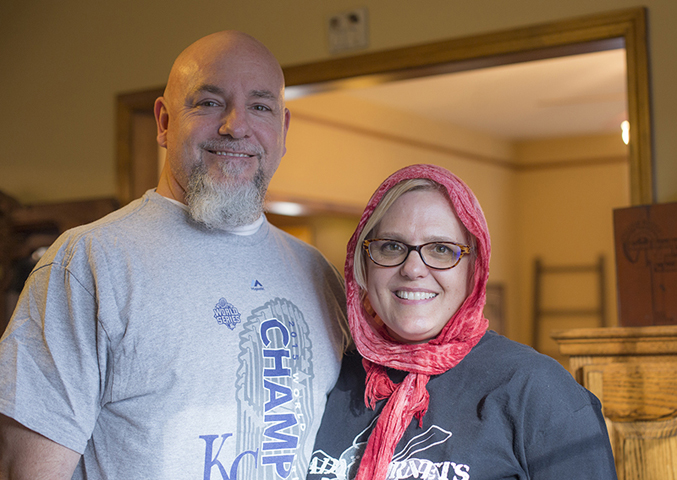 Mike and Martha DeVries pose for a photograph in their home in North Kansas City, Mo., on Feb. 22, 2016. (Religion News Service/Sally Morrow)
North Kansas City, Mo. — March 18, 2016
To protest the anti-Muslim rhetoric of this presidential campaign, high school counselor Martha DeVries decided to wear a hijab in public every Monday.
DeVries, 47, attends a Baptist church and identifies as "a follower of Jesus," but said she felt a responsibility to outwardly display her acceptance of Muslims and refugees.
In the January/February 2016 issue of Herald, Baptist News Global's magazine, where her story first appeared, she said, "We have a lot of immigrants living close to the high school where I work," adding that when the weather's nice the local park "looks like the United Nations."
DeVries said she also felt inspired by a sermon her pastor delivered on making a difference.
She started in December and hasn't received any negative comments on the street or in the school. But one commentator who read her story on Facebook wrote: "Just wait till they make you wear that, or they chop off your head if you don't agree with that."
"I've also had people ask, 'Don't you think you are perpetuating this really ultraconservative, degrading view of women by wearing a hijab?'" DeVries said.
She said her motivation is merely to "walk in someone else's shoes," which she plans to continue until the end of the school year in May.
"It's really easy to be a Christian in the United States. Lots of people share my faith, lots of people share my holidays, so it's not really a struggle," she said.
"What's a headscarf? It's 3 yards of material. That shouldn't separate me from someone whose humanity is so much like mine."
Her husband, Mike DeVries, a part-time youth pastor, supports his wife's gesture.
"Christians need to take a step back and evaluate their actions," he said. "Are we really making a difference, in what our purpose is, by bashing people?"
DeVries has made Facebook friends with Muslim people all over the world interested in her story.
And to the critics, she responds that her friends who wear hijabs are by no means subservient.
"They are very strong, independent women who choose to cover their heads as part of their faith. I don't feel like it's because they feel intimidated to do that," said DeVries, who is not the only American Christian to don a hijab out of solidarity.
Several months ago, a tenured professor at Wheaton College near Chicago posted a photo of herself wearing one with a caption that said Muslims and Christians "worship the same God." The evangelical school suspended her and she eventually agreed to leave her post.
Laeeq Azmat, secretary of the Islamic Center of Northland in North Kansas City, said he appreciates DeVries' gesture.
"This particular act is very helpful -- a Christian sister helping us or helping other Christians realize how a person might feel in the scenario," he said.