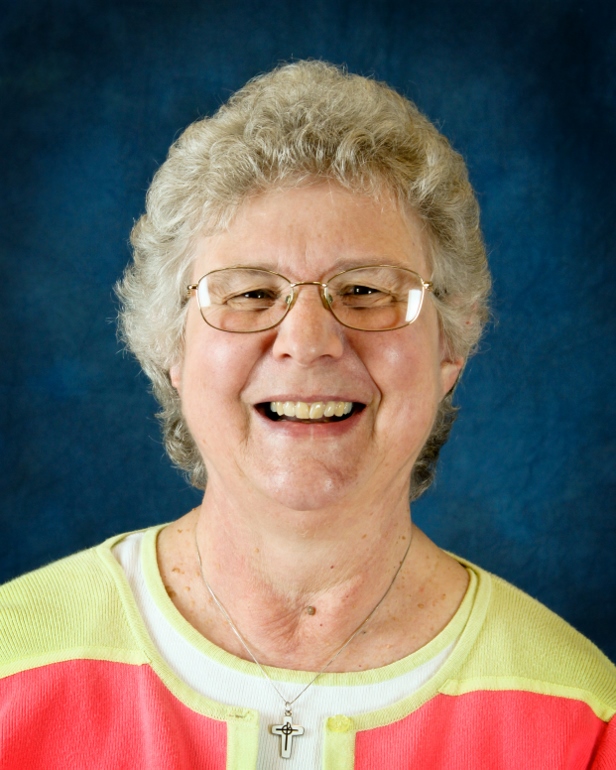 Sr. Mary Mundy. (Courtesy of the Sisters of Providence of St. Mary of the Woods Indiana)
Sr. Mary Mundy, Sister of Providence
Age: 69
Lives in Evansville, Indiana
Sr. Camille: What attracted you to your religious community?
Sr. Mary Mundy: My mother loved the Sisters of Providence and St. Mary of the Woods; my dad had all these relatives who were in the community. Actually, I'm the fourth generation in the Mundy family who is a Sister of Providence! My great aunt, also named Mary Mundy, was in the second generation. Though she died when I was a toddler, it was the stories about how much fun she was and what a great sense of humor she had that made me think I could possibly be one of them!
What ministries have you had?
My ministries have varied over the years, and I've really been blessed to enjoy each of them. I spent a number of years teaching elementary school, with inner-city Indianapolis eighth grade being a favorite time. From that I stepped into youth and parish ministry, now wrapping up my 23rd year as a pastoral associate. For a short time I was in elected leadership within the congregation and also served seven years as director of novices. I was in this formation ministry when we met, Camille, and I remember well your support and encouragement.
Did any have a greater hold on your heart?
I loved 'the work' and the great opportunities that time in formation ministry brought me for personal and spiritual growth. Those women were a gift in my life that I continue to treasure. They were indeed providence women, even those who chose to leave us. Our congregation continues to be blessed by remarkable women who are now in initial formation with us! Not everyone can say that. These women help us focus on matters of mercy and justice regarding land ethics, immigration, women and children in particular.
I got to know you when you lived in what I would consider a rural area. There were horses and alpacas on your property. Where do you live now?
My home and ministry at this time are in southwestern Indiana, in a small city named Evansville. Our foundress Mother Theodore Guerin passed through here on the Ohio River on her way to St. Mary of the Woods where she and five other sisters established our community in 1840. I like standing on the banks of that river pondering their courage and reliance on providence. 'Standing on their shoulders' and those of the many Sisters of Providence who served in this city before me is an even greater blessing!
With whom do you share community?
At this point I'm the only Sister of Providence in Evansville, but I am delighted to gather as often as possible with Providence Associates from the area. Just this week four of them managed to come to my home for a simple meal, conversation, and great laughter. I connect regularly, however, with other members of my community. I like to think of 'my home' as one of our homes. One of our sisters made a retreat there recently and found it to be 'home' for her, too. Also, the motherhouse is not much more than two hours away and it's so good to get there whenever I can.
And ministry?
I work with a wonderful pastoral staff here at Holy Rosary Parish. I find what I'm really called to do in the day by day is support and encourage active involvement of parishioners in a variety of ministries, especially in liturgical areas and outreach to the sick and hospitalized. One of my greatest loves is spiritual direction and another one on commitments. For several years I've been working with a local group to abolish the death penalty here in Indiana. The relationships you and our Sr. Rita Clare Gerardot have with death row inmates -- and my own personal involvement as a result of that -- have beckoned me in that direction.
What gives you satisfaction?
What doesn't?! I love life.
What are the challenges?
One of my greatest challenges right now is my inability to speak Spanish. A Latino member of the parish reminded me months ago that when one knows the language of the heart that's the language that really matters. Yet, I feel so inadequate when my verbal communication is limited.
Are you nourished by a particular form of prayer?
I find the early morning hours of quiet contemplative prayer a wonderful way to start the day. Also, I try to live in a contemplative manner, reflective and open to God. I love being in nature so the great outdoors also speaks to me. A favorite psalm is 139, where I am reminded of this great, loving God who calls me to ongoing conversion of heart. I have several names for God; Providence, Compassion, and Beloved are primary. My image of God is reflected in those names.
How have you experienced the changes in religious life?
I can happily say I'm nearly 52 years a member of a religious congregation. How different religious life is since the day I entered in 1964, around the time of Vatican Council. How different religious life is from when my great, great aunt entered the community in the late 19th century! Being a farmer's daughter and knowing the seasons of Earth, I can say one has to trust in today, and hope in tomorrow, leaning on the Providence of God. Religious life and changes call us to that, too.
Where and with whom did you spend your childhood?
The extended family was very much part of my upbringing. So was the church community. So were the neighboring farm families. We learned responsibility early on and shared in the work load and the laughter. Our family home was always a gathering place for the four of us children and our friends. We likely were the only ones who didn't have a curfew because of that -- we were already home! Childhood friends loved our parents and would confide in them sometimes more than they did their own parents. Life was far from perfect, however, as there were challenges and disappointments that also helped shape who we are today. I tend to think we are better for the wear.
Are you close to your family members?
I love my family and never seem to see them enough. Since our parents died rather young, I feel I've often been seen as 'the grandmother' figure in the family. I most love being 'Aunt Mary' to the two generations following me. It's especially nice living within a three-hour radius of most of them where we can just hang out. Parish ministry doesn't lend itself to weekends with family, but we manage to do what we can!
Are you close to people with whom you've shared ministry?
It's safe to say I cry every time I leave a ministry -- friends are precious!
What else would you like us to know?
God loves me immensely and s/he loves no one else any less than God loves me!
[Mercy Sr. Camille D'Arienzo, broadcaster and author, narrates Stories of Forgiveness, a book about people whose experiences have caused them to consider the possibilities of extending or accepting forgiveness. The audiobook, renamed Forgiveness: Stories of Redemption, is available from Now You Know Media.]
Editor's note: We can send you an email alert every time Sr. Camille's column, Conversations with Sr. Camille, is posted. Go to this page and follow directions: Email alert signup.