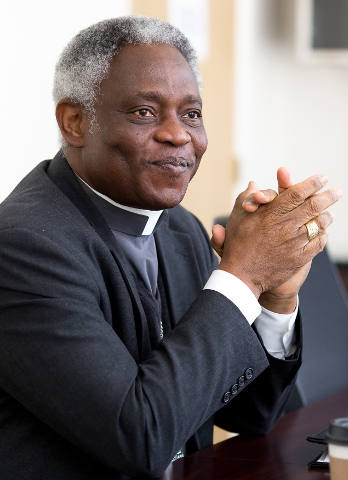 Ghanaian Cardinal Peter Turkson, president of the Pontifical Council for Justice and Peace, speaks Feb. 19 during a two-day international conference on climate change on the campus of St. Thomas University in Miami. (CNS photo/Tom Tracy)
Miami — February 24, 2016
Pope Francis' right-hand man on the environment and climate change issues urged Catholics attending a local academic conference to let Christian spirituality guide their thinking and actions toward preserving the full range of God's creation.
Cardinal Peter Turkson, president of the Pontifical Council for Justice and Peace, spoke Friday in Miami at St. Thomas University as part of the school's two-day International Conference on Climate, Nature & Society. The event was spearheaded by the university's Institute for Bioethics.
The conference tackled the science and social impact of ecological change with talks from leading experts in the field along with Turkson, who recently made several U.S. stops last week in the Vatican's efforts to promote Pope Francis' encyclical on the environment, "Laudato Si', on Care for Our Common Home."
In addition to being a scriptural scholar, Turkson is credited with helping to draft Laudato Si', the first papal encyclical in the 2,000-year history of the Catholic church devoted solely to environmental and mankind's collective responsibility to pass along a clean and safe planet to future generations.
"It is urgent that we change our sense of progress, our management of the economy and our style of life," Turkson said at the outset of his remarks, echoing Francis' appeal for a "new ethical and spiritual itinerary to reduce our footprint and reverse the deterioration of the natural and social environment."
Turkson has been likened to a touring "rock star" bringing forward the concepts discussed in Laudato Si' and the "the way the encyclical challenges human, social conscience."
The document touches on such important areas related to human activity such as urban planning, overconsumption and human trafficking and they affect both humankind and the environment.
Changes require shifts in thinking, the cardinal told the audience, which included students from several local Catholic high schools along with Miami Archbishop Thomas Wenski and several clergy and religious leaders of the Miami archdiocese and of St. Thomas University.
The pope has a very deep sense of trust and belief in the ability of humanity to do things for the better, according to Turkson. "To make such change will require major shifts in our thinking and commitments, indeed a conversion of every individual and of groups and institutions at every level from local to global and all of us in humanity."
"Pope Francis asks us to consider what is happening to our common home, and he proposes an integral ecology that is natural but is also human and even social, and then bring this home to see what is happening in the United States and in Florida and what can be done by a university like St. Thomas University," the cardinal said, noting the role of the church and Catholic academia.
"Pope Francis invites us to feel the pain of the planet and of the poor, and to resolve to change, calling us to a certain amount of compassion to what is happening to our home and to the poor ones in our midst," he said. "Our sins do impact on the earth and the earth's surface as a result of the way we treat the environment."
The cardinal touched on a list of fragile global communities and shorelines -- including that of Miami Beach along with rainforest, desert and Pacific island communities -- which scientists have identified as being under threat of environmental changes, rising sea levels and changes in precipitation.
On the correlation between our own spiritualities and our treatment of the environment, Turkson said our conscience is the "seat and home" of a conversion.
"The care of our common home, as Pope Francis sees it, can never be achieved by individual initiatives or by the united efforts of men bred in an individualist way. It calls for a union of skills and unity of achievement of that can only grow from a quiet and different attitude," he said.
"Social problems must be addressed by community networks and not simply by the sum of good ideas, which means that for Pope Francis ecological conversation becomes community conversation undergirded by a very sound and profound spirituality," Turkson said.
"Pope Francis recognizes that a commitment to this lofty idea cannot be sustained by mere doctrine, it must be sustained by spirituality, that interior impulse that encourages, motives, nourishes and gives meaning to our individual and communal activities."
In a separate conversation with local media, Turkson said the Vatican is welcoming a dialogue with U.S. industry and business leaders who are interested in furthering Francis' conversation and challenge to protect the environment, including U.S.-based solar companies.
Plans are the works, he said, for a gathering at the Vatican in April for business and church leaders to discuss ecological issues.
The conference organizer was Fr. Alfred Cioffi, a Miami archdiocesan priest, who holds the university's Florida Blue endowed chair in bioethics and is director of St. Thomas' Institute for Bioethics. He said he hopes the conference educates people, but more importantly, unleashes actions and ideas to curb global climate change.
Editor's note: Want more stories from Eco Catholic? We can send you an email alert once a week with the latest. Just go to this page and follow directions: Email alert sign-up.