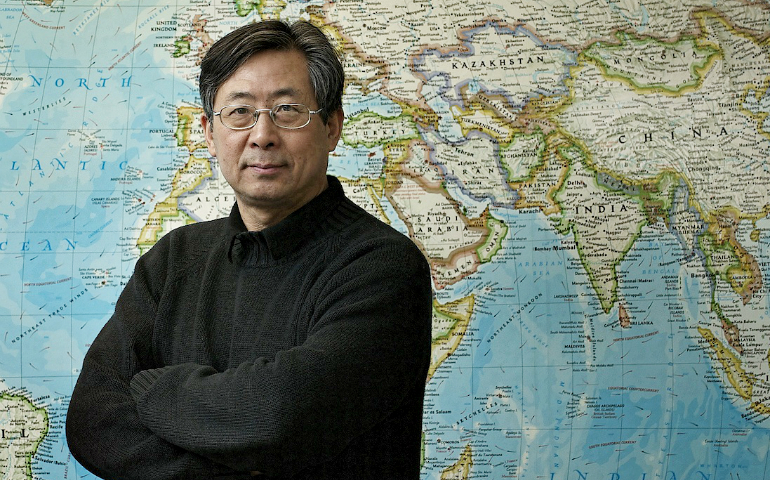 Maorong Jiang, professor of political science and director of Creighton University's Asian World Center (Creighton University)
Pittsburgh — Beginning in the fall 2017 semester, students at Duquesne University can work toward earning a 15-credit Jewish studies minor through the McAnulty College and Graduate School of Liberal Arts.
The 15 credits will come from five mandatory classes, including courses on anti-Semitism and the Holocaust. Students minoring in Jewish studies must also take a comparative course on Judaism, Christianity and Islam.
Daniel Burston, associate professor of psychology, said in a press release that Duquesne wants to promote interfaith dialogue and understanding between the three religions.
---
Omaha, Nebraska — Creighton University's Asian World Center will observe its 13th annual Asian Culture Week April 17-21.
According to a press release, Asian Culture Week celebrates the continent's diversity and influences on the rest of the world. This year's theme is "Indigenous Cultures Preservation through Higher Education: An East-West Academic Discussion."
Events surrounding the weeklong celebration will include presentations, lectures and roundtables led by professors at Creighton, University of Nebraska at Omaha, and Indiana's Valparaiso University. The press release says all events will be held in the Skutt Student Center and are free and open to the public.
---
St. Bonaventure, New York — Nearly 200 countries have been celebrating Earth Day on April 22 every year since 1970. This year, St. Bonaventure University is celebrating "Earth Month" throughout April.
According to a press release, the university's Campus Conservationists club designated April as Earth Month because "every day is Earth Day." Club member Jacob Nugent said in the press release that Campus Conservationists promotes an environmentally friendlier lifestyle through recycling, cleanup and education initiatives.
Various events surrounding Earth Month will take place on campus throughout April, including a geocaching game on campus, a trail and community cleanup, and a fashion show featuring clothing made from recycled materials.
A full list of Earth Month events is in the university's press release.
---
Fond du Lac, Wisconsin — Marian University has announced the public phase of its $13 million comprehensive campaign dedicated to renovating and expanding the school's science center and providing a $1 million endowment.
"The Marian Campaign: Inspired Students, Stronger Community" started its quiet phase in 2015. According to a press release, the campaign has already raised $10 million, but hopes to fulfill its total goal by the end of 2018. The press release also says the science center will be rededicated to Richard and Leslie Ridenour, "president and first lady" of Marian University between 1997 and 2006.
---
Quincy, Illinois — Dot Foods, an Illinois-based food industry redistribution company, will donate $1.3 million to Quincy University to help the school's financial recovery in the face of a $5 million budget deficit, according to a press release.
Quincy said in the press release that it has hired a new chief operating officer and chief financial officer since announcing its financial troubles last fall. In January, an anonymous donor gave $1 million to the university, and the Franciscan Province of the Sacred Heart gifted the school with $300,000 in February.
All of these donations are going toward the university's five-year, $7 million fundraising effort, the press release said.
[Shireen Korkzan is an NCR Bertelsen intern. Her email address is skorkzan@ncronline.org.]