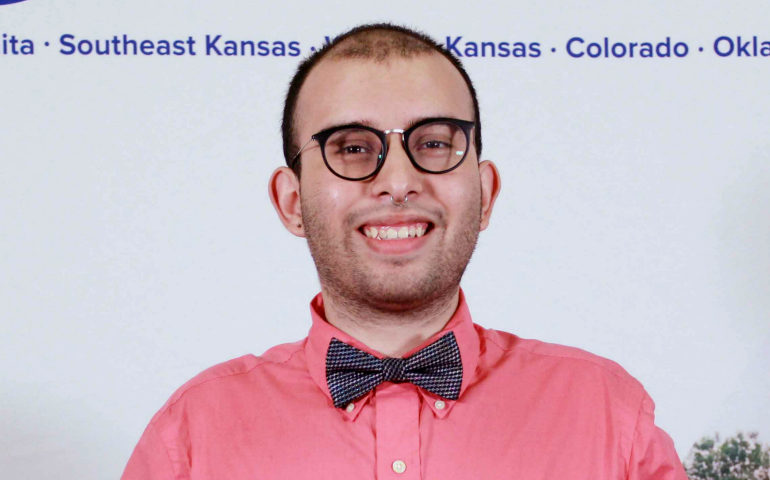 Ruben Lerma, a student at Newman University in Wichita, Kansas (Newman University)
Wichita, Kansas — Newman University plans to offer an LGBT support group on campus next year in an effort to make its lesbian, gay, bisexual and transgender students feel more welcome.
According to The Wichita Eagle, the school, founded by the Adorers of the Blood of Christ, formed a committee of administrators, students, faculty and religious to figure out how to support its LGBT students. The committee ultimately formed a "pastoral plan," modeled after practice at the University of Notre Dame, that "emphasizes that the club cannot contradict the Catholic view that LGBTQ students should be 'chaste,' because sex is condoned only in marriage between a man and a woman," The Wichita Eagle reported.
University administrators decided to form the committee after one of its students, Ruben Lerma, spoke up about his experience as a gay student at Newman at a public forum his junior year. He said he would often overhear students on campus talk about how gay people should "go to hell" and that legalizing gay marriage would make gay people want to marry animals.
Lerma told The Wichita Eagle he remembers saying in his speech: "I'm not the only gay person here, I'm not going to be the only gay person here, there will be more. If for their sake, if not mine, you should make it more amiable, make the environment better."
Newman's announcement of offering an LGBT support group was made the same week a gay student at Creighton University in Omaha found a note on his dorm room's door with an expletive and a gay slur saying, "Kill yourself leave our school gays are not welcome in Nebraska or Creighton."
Jesuit Fr. Daniel Hendrickson, Creighton's president, said in a statement that the university is investigating the incident and that "all forms of discrimination or discriminatory harassment violate our Catholic, Jesuit principles and values and will not be tolerated."
---
Santa Paula, California — Thomas Aquinas College officially took ownership of Northfield Mount Hermon School's former campus in Northfield, Massachusetts, May 2. Thomas Aquinas, a Great Books Program-based college that only offers a bachelor's degree in liberal arts, plans on using the campus to launch its East Coast branch, which it expects to open in fall 2018.
Officials of the National Christian Foundation gave the land to Thomas Aquinas and the Moody Center, a nonprofit organization that hopes to restore historic aspects of the campus as well as develop a museum and archives.
Founded in 1879 by evangelist Dwight Moody, Northfield Mount Hermon School is an independent boarding school that once owned two campuses in Massachusetts, one in Northfield and another in Gill. The school consolidated its Gill campus in 2005 and sold its 500,000-square foot Northfield campus to the owners of Hobby Lobby for $100,000 four years later. In 2012, the family donated the campus to the National Christian Foundation after conducting $5 million in renovations.
According to the press release, the National Christian Foundation's donation is the largest gift to Thomas Aquinas in the college's history.
---
New Orleans — Loyola University New Orleans' new chief diversity officer will be Sybol Cook Anderson, who is currently an associate professor of philosophy at St. Mary's College of Maryland. She will start her new role Aug. 1.
---
Despite fanfare, tuition 'resets' offer modest savings
Omaha, Nebraska — Three years ago, senior staff at College of St. Mary, a Catholic women's school sponsored by the Sisters of Mercy, held a brainstorming session around this question: How would Catherine McAuley, founder of the Sisters of Mercy in 1831, view the school's present operations?
Colleagues discussed the college's academic quality and the significance of its residence hall for single mothers. They talked about how such aspects align with the charisms of serving the vulnerable, recalls Sarah Kottich, vice president for finance and administrative services for the college.
"It got to me, and I was like, 'I can't justify the sticker price of our tuition to Catherine McAuley. I can't explain why a $30,000 sticker price makes sense for an institution which said that it wants to create access to serve the poor,' " Kottich said.
With tuition climbing about 3 percent per year, St. Mary staff decided to draw a line in the sand before it would have surpassed $30,000. It announced a tuition "reset," which will reduce tuition costs by a third for students this fall.
Preview this story from our subscribers-only Colleges & Universities special section.
[Shireen Korkzan is an NCR Bertelsen intern. Her email address is skorkzan@ncronline.org.]​