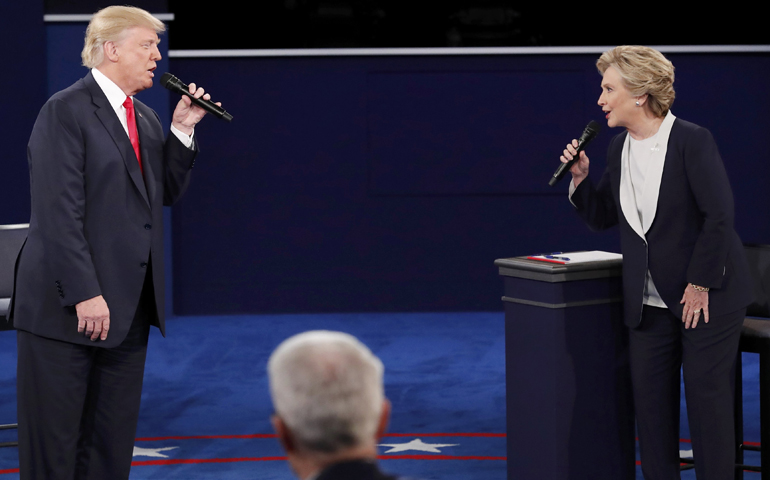 Donald Trump and Hillary Clinton speak during their Oct. 9 presidential debate at Washington University in St. Louis. (CNS/Jim Young, Reuters)
As moderator of Wednesday night's third and final presidential debate, Chris Wallace of "FOX News Sunday" faces a more extreme challenge -- and bigger stakes -- than the journalists who preceded him in the hot seat for rounds one and two.
His task: Making sense of 90 minutes that Republican nominee Donald Trump will almost certainly pollute with the sort of calculated nonsense that renders any attempt at serious discussion of issues nearly impossible to achieve.
In previous encounters with Trump and his Democratic opponent, Hillary Clinton, Wallace has shown himself an able foil to Trump's factual inaccuracies and the bobs and weaves that Clinton executes with more nuanced deflection.
In the past week, though, Trump has shifted to a higher (or lower) level of fabrication, responding to growing charges of sexual assault with, among other things, racially-tinged claims of a "rigged" election. He offers no evidence of the vote fixing he claims is in the works, especially in the heavily African-American precincts in Philadelphia so crucial to the outcome in swing state Pennsylvania. But it's the sort of charge that's difficult to disprove in advance.
The Las Vegas debate will likely be the last chance for American voters to assess the candidates on the same stage before casting their votes Nov. 8 or, in the many states permitting early voting, even sooner.
The half dozen topics Wallace has selected -- debt and entitlements, immigration, the economy, the Supreme Court, overseas hot spots and fitness to be president -- could inject a last-minute crucible of issues into a campaign mired in demagoguery and evasion.
Despite the pressure of Trump's escalating falsehoods and the willingness of his backers to go along for the ride, there are few journalists better positioned than Wallace to call bullshit.
Before joining FOX News in 2003, he spent 14 years as a correspondent for NBC News and another 14 years at ABC, with stints that included White House correspondent, host of "Meet the Press" and occasional host of Nightline.
Wallace is the son of the late CBS newsman Mike Wallace, a famously relentless interrogator. The son has earned his own reputation as an accomplished interviewer, routinely displaying a command of issues and the confidence and persistence it takes to pin down his often slippery guests on "FOX News Sunday."
Wallace took some heat last month when he told FOX media analyst Howard Kurtz that he had no intention of being a fact-checker during the Trump-Clinton debate, noting, "I do not believe that it's my job to be a truth squad."
But as one of three moderators of the March 3 Republican primary debate in Michigan, Wallace laid what The Washington Post described as "a bear trap" for Trump, inviting him to repeat one of his fictitious campaign claims that Wallace promptly refuted with a full-screen chart.
"Mr. Trump, your numbers don't add up," Wallace informed the candidate as viewers at home were presented with a full-screen chart debunking Trump's promise to eliminate the $544 billion federal deficit simply by wiping out the $78 billion Department of Education and the $8 billion Environmental Protection Agency. That was fact-checking par-excellence.
As the first representative of right-leaning FOX News to preside over a presidential general election, Wallace enjoys some of the benefit of the doubt that the avidly anti-Communist Richard Nixon received when he agreed to become the first American president to visit the People's Republic of China in 1971.
As evidenced by Trump's savaging of FOX host Megyn Kelly during and after her moderation of a GOP primary debate in August 2015, though, there are limits to the cover provided by Wallace's FOX paycheck.
What about Wallace's credibility with Democrats?
Unlike NBC's Lester Holt (moderator of the first debate and a registered Republican despite Trump's mistaken claims that he's a Democrat), Wallace is a registered Democrat. It's a party choice he explained to The New York Times as a way to take part in District of Columbia elections.
---
Related: "How Lester Holt's limitations as enforcer and fact-checker triggered his success as moderator" (Sept. 27, 2016)
---
Some Clinton supporters argue that journalists have fallen victim to "false equivalency" in their aggressive treatment of Clinton, no doubt a fair critique when it comes to some of the FOX News coverage of the former secretary of state.
But Wallace's extensive interview with Clinton after she won the Democratic nomination struck me as appropriately tough. If anything, I wished he had pressed harder on such topics as her response to the coup in Honduras and her ties to Wall Street. (Disclosure: I voted for Sanders in the Massachusetts primary.)
In a memorable exchange on Wallace's "FOX News Sunday" show five years ago, lefty comedian Jon Stewart argued that FOX was lucky to have Wallace as "a counterweight" to more blatantly right-wing colleagues like Sean Hannity.
"I think that you are here in some respects to bring a credibility and an integrity to an organization that might not otherwise have it without your presence," Stewart told Wallace. "I think you're a tough interviewer," he added. "I think you're a fair interviewer."
Wallace is not without his critics. Trump, even before Wallace stung him so dramatically in the Detroit debate, dismissed him on "Meet the Press" last year as "a small shadow of his father, Mike, that I can tell you."
I'm not sure Mike Wallace ever faced quite the sort of challenge his son will face Wednesday.
Journalism scholar Jay Rosen argues that Trump's reliance on nonsense has crashed both the political and journalistic systems in this country.
"Trump isn't behaving like a normal candidate; he's acting like an unbound one," he wrote in The Washington Post just before this summer's Republican National Convention. "In response, journalists have to become less predictable themselves. They have to come up with novel responses. They have to do things they have never done. They may even have to shock us."
Let's see what Wallace comes up with Wednesday night.
[Bill Mitchell teaches journalism ethics at Northeastern University and is a former member of NCR's board of directors. His most recent NCR contribution was an assessment of Lester Holt's performance as moderator of the first debate.]