Because lawmakers in her state refused to expand Medicaid, Swan Lockett, a 46-year-old mother of four from Texas, uses home remedies or pays $75 to see a doctor when she has an asthma attack.
Wednesday at the Supreme Court: Abortion at heart of Ohio speech case
Sex abuse in Ireland -- Archbishop Diarmuid Martin says Vatican apostolic visitation delayed church reform. "The visits froze the Irish church at a particular moment."
U.S. bishops head to the border: A return to witness instead of lawsuits by Michael Sean Winters
France: Marseille archbishop tries to heal divisions in French conference left polarized by campaign against gay marriage
Oxford, England -- Bishop Trying To Deliver Poverty Letter To Prime Minister Is Met By Police
New Mexico -- Franciscan brothers to leave Carlsbad area
Kampala, Uganda — Hundreds die in ethnic violence in South Sudan
NCR Editorial: Bishops need to be courageous, listen to their people
Commentary: On L.A.'s skid row, the challenge of the Resurrection by Jeff Dietrich
Press release: Massive Online Open Seminar (MOOS) on Catholic Women Deacons Women Deacons: Past, Present, Future will run June 9-July 8.
Press release: SNAP Leaders from California, New Jersey and Wisconsin honored
---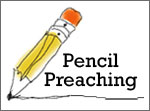 Looking for a little inspiration to begin your day? NCR's sister publication, Celebration, gives you two options, both based on the Scripture readings of the day:
Pencil Preaching is a blog in which Celebration editor Pat Marrin combines Scripture and sketching to reflect on the Word.

Daily Bread is a series of short reflections written by four authors who meet regularly to share the readings. Daily Bread is intended to help daily preachers and others who pray from the assigned Scriptures each day to orient themselves to the Living Word addressed to the church in the world. It's a great way to begin the day.
Advertisement