D-Day: Take a breath of gratitude on a day of remembrance
National Doughnut Day is a 76-year-old tradition that was first launched by the Salvation Army to commemorate World War I volunteers and is now held on the first Friday in June. Here's How to Get Free Donuts Today
Vatican City -- Pope Francis has dismissed the entire board of the Vatican's financial regulator as he looks to reform the city-state's banking practices following a corruption scandal. The move is also reportedly due to infighting among the "old guard."
Vatican City -- Palestinian Lutheran bishop to pray with Pope Francis, Israeli and Palestinian presidents
Seoul, South Korea -- Pope Francis' Korea visit not without controversies
Attleboro, Mass. -- Parishes charter faith-based Scout troops as alternative to Girl Scouts of America -- "It keeps that moral compass where we want it as parents," one mom says.
Bishop of Hull: 'Church of England has dragged its feet over women bishops'
Have you been reading NCR's new website devoted to covering the mission and ministry of Catholic women religious? Check it (daily) at

Global Sisters Report. Here's a great example of the work of GSR: Changing a broken system -- Sr. Berta Sailer and Sr. Corita Bussanmas have helped three generations of children in the urban core of Kansas City, Mo., from providing day care and education to lobbying to change state legislation. By Suzanne King
Sr. Rose Pacatte says 'The Fault in Our Stars' is a simple love story well told. She also rates it BK (bring Kleenex®)
Milan, Italy -- Singing nun wins Italian television talent show (with video)
Suit filed against Worcester, Mass., diocese: Gay couple allege dioceses pulled out of property sale because of their sexual orientation.
Miami -- As the NBA finals got underway, once again pitting the Miami Heat against the San Antonio Spurs, Miami Archbishop Thomas Wenski placed a friendly bet with San Antonio Archbishop Gustavo Garcia-Siller.
Colorado Springs, Colo., Gazette editorial: Cardinal Oscar Rodriguez Maradiaga has it wrong on the free market. "With due respect, this 'economy that kills' has done more to serve the common good than any system in history." (You have to answer a one-question survey (or register your email) before going to the actual article.)
Cleveland -- Diocese drops annulment fees
Maynooth, Ireland -- The Association of Catholic Priests meets with three Irish bishops, make three proposals: Ordain "suitable married men" to the priesthood, invite back men who left the priesthood to marry, and ordain women to the permanent diaconate. Fr. Brendan Hoban pointed out that there has been a priest in his Killala parish since the eighth century, but that he was likely to be the last. Within 20 years, there will be seven priests serving 22 parishes in that diocese, he said.
Slovakia changes constitution to ban same-sex marriage
International and Irish rage mounted as officials in Ireland scrambled to respond to the recent discovery of the bodies of nearly 800 babies, long dead, stored in a septic tank at a Catholic institution for unwed mothers in western Ireland. It is likely not the only one of its kind in Ireland.
---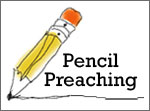 Looking for a little inspiration to begin your day? NCR's sister publication, Celebration, gives you two options, both based on the Scripture readings of the day:
Pencil Preaching is a blog in which Celebration editor Pat Marrin combines Scripture and sketching to reflect on the Word.

Daily Bread is a series of short reflections written by four authors who meet regularly to share the readings. Daily Bread is intended to help daily preachers and others who pray from the assigned Scriptures each day to orient themselves to the Living Word addressed to the church in the world. It's a great way to begin the day.
Advertisement