Marquette, Mich. -- Gay Parishioner Told to Observe Mass from Crying Room, Expelled from Ministries
Australia: Royal Commission investigating sex abuse in institution hears from superior of Marist Brothers, who said that in the 1980s he didn't know the sexual assault of children was a crime.
Lincoln, Neb., Call to Action -- Book tells Nebraska's Catholic horror story
Commentary: The Catholic diocese of Venice, Fla., is in dire need of a new direction by John and Ellen McNally
While Pope Francis rages over inequality, a cardinal builds a Vatican penthouse
Pope admits corruption affects prelates, Francis asks forgiveness for clergy graft
Methodist Church Pension Board Links Divestment to Firm's Role in Israeli Prisons
Guadalupe, Mexico -- On Facebook priest professes his love for fast cars, sexy women and good food. A local Catholic church official said: "We believe his love for women is an expression of God's wonder in making them beautiful. He is still a celibate priest as his calling dictates."
Women hold society together amid war by Chris Herlinger. This reporting comes from NCR's new website,

Global Sisters Report, devoted to covering the mission and ministry of Catholic women religious. It offers news, commentary and reflections on spirituality and theology.
Peoria, Ill. -- Vatican theologians approve Fulton Sheen miracle
Save the Date: Milwaukee Archbishop Listecki to appear at Press Club luncheon Sept. 3. Appearance is one month before the scheduled confirmation hearing on the archdiocese's bankruptcy reorganization plan.
This Is How Much America Spends Putting Out Wildfires -- As the West burns, the way the feds fight wildfires doesn't jibe with the reality of climate change.
World Cup and the Church of England -- Bishop Nick Baines of Leeds supplies five prayers for England tournament bid. (Did not work for England against Italy on Saturday.)
---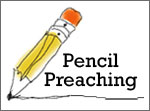 Looking for a little inspiration to begin your day? NCR's sister publication, Celebration, gives you two options, both based on the Scripture readings of the day:

Daily Bread is a series of short reflections written by four authors who meet regularly to share the readings. Daily Bread is intended to help daily preachers and others who pray from the assigned Scriptures each day to orient themselves to the Living Word addressed to the church in the world. It's a great way to begin the day.
Pencil Preaching is a blog in which Celebration editor Pat Marrin combines Scripture and sketching to reflect on the Word.
Advertisement