Ahead of papal Mass canonizing Korean martyrs, Police confront Korean ferryboat father victim
From Seoul, sisters' message to LCWR: "I know LCWR faces some tough choices, but I will be very disappointed if they give in to CDF demands."
Seoul, South Korea -- Pope Francis stresses peace as he steps foot into South Korea
Pope Francis is in Korea, and NCR is there. Read all our coverage here: Francis in Korea
LCWR speaker: 'We have become more faithful, not less'
LCWR is meeting in Nashville. Read NCR coverage here: LCWR 2014
The leader of the Catholic Church in Ireland, Cardinal Séan Brady, has offered his resignation to the pope.He's turning 75.
Commentary: US should help immigrants stay back home by Bishop Richard PAtes of the Des Moines, Iowa
Schenectady, N.Y. -- Editorial: Why wait to fire priest?
GRS at LCWR -- Learning from the different definition of leadership by Dawn Cherie Araujo

Global Sisters Report , devoted to covering the mission and ministry of Catholic women religious. It offers news, commentary and reflections on spirituality and theology.
Kansas City, Mo. -- Judge confirms that KC diocese must pay $1.1 million in breach of contract case
Live video link from the Vatican to Australia: Next week Cardinal George Pell, who created the first internal church system for responding to people abused by clergy, will face the Royal Commission into Institutional Responses to Child Sexual Abuse.
---
Looking for a little inspiration to begin your day? NCR's sister publication, Celebration, gives you two options, both based on the Scripture readings of the day: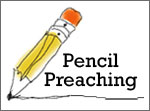 Pencil Preaching is blog in which Celebration editor Pat Marrin combines Scripture and sketching to reflect on the Word.

Daily Bread is a series of short reflections written by four authors who meet regularly to share the readings. Daily Bread is intended to help daily preachers and others who pray from the assigned Scriptures each day to orient themselves to the Living Word addressed to the church in the world. It's a great way to begin the day.
Advertisement