The nuns are on the bus again and NCR's Global Sisters Report is blogging live from the bus. The tour's theme, "We the People, We the Voters."
NCR columnist Fr. Tom Reese declares: I still love Pope Francis What's that all about?
Vatican puts former nuncio accused of sex abuse under house arrest
Traditionalist leader meets at Vatican to discuss reconciliation
Pope names five women to International Theological Commission
A closer look at the archbishop-designate of Chicago, Blase Cupich: Cupich to media: 'It's just important for me to put aside my ego'
U.S. military leaders: Strikes in Syria are just the start of a prolonged campaign
Lewistown, Mont. -- Priest removes gay couple from volunteer posts in Lewistown Catholic church and Parishioners Meet With Bishop Over Gay Couple
Victoria, Minn. -- Archbishop Nienstedt Asks For Gay Music Director's Resignation
Filmmaker Sam Katz looks at Philadelphia's Catholic history -- Titled Urban Trinity: The Story of Catholic Philadelphia, the project will tell the history of Catholicism from 1700 - when the region's few and marginalized "papists" were served by circuit-riding priests - to the present day.
From Global Sisters Report: A safe haven for girls escaping FGM in Kenya by Sr. Jane Wakahiu
In northeast Uganda, 'It's a struggle, but we fight the good fight' by Chris Herlinger
Reader Recommendations:
Appreciating the different flavors of Catholic Christianity: 20 hours of prayer vigil features liturgies with roots from Rome to Ukraine to India. Roman, Syro-Malabar, Byzantine and Ukrainian, and Melkite, Maronite and Syrian rites of the Middle East
Chicago Tribune Editorial: Blase Cupich and Chicago: The job that awaits  -- For all of us [Chicagoans], ... this particular organization [the archdiocese] is something more: As our largest private provider of education, health care and social services, the Catholic Church touches vast numbers of Chicagoland lives. Whoever runs the show matters -- to us all. (May require registration.)
Jewel Crowd-Sourced A Song And Now It's Going To Support Public Housing -- The once-homeless singer-songwriter wrote "Home to Me" to support the ReThink public housing initiative.
---
Looking for a little inspiration to begin your day? NCR's sister publication, Celebration, gives you two options, both based on the Scripture readings of the day: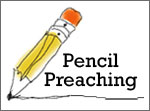 Pencil Preaching is a blog in which Celebration editor Pat Marrin combines Scripture and sketching to reflect on the Word.

Daily Bread is a series of short reflections written by four authors who meet regularly to share the readings. Daily Bread is intended to help daily preachers and others who pray from the assigned Scriptures each day to orient themselves to the Living Word addressed to the church in the world. It's a great way to begin the day.
Advertisement