OAKLAND, Calif. -- Fourteen-year-old Edwin can hardly understand Spanish and is slowly learning English, but his biggest dilemma now is finding a way to save his mother from the violence in his native Guatemala, and how to pay the $7,000 he owes lawyers. In Search of a Sanctuary for Migrant Children
Alaska -- Fairbanks priest faces child pornography charges One correction to this story: Landry, 57, isn't an ex-priest, he is only suspended from ministry. He was ordained in 2011, but was a longtime school teacher in New Orleans
Ohio -- Vatican defrocks 3 Archdiocese of Cincinnati priests accused of harming children
Germany -- Cardinal Marx: Pope Francis has pushed open the doors of the church
Brother Leo, a Franciscan friar is the Holy Father's protégé. Read his exploits in Francis, the comic strip.
Chaput in the soup: MSW Responds to Matthew Franck et al.
Joan Sauro, a Sister of St. Joseph of Carondelet, tells a tale of two weddings. "The words we say to each other, the vows we make, mine included, are words on a journey."
On Saturday, Nov. 1, Rockhurst University and National Catholic Reporter will present a day of discussion on the milestones and lessons of Pope Francis' transformative papacy and his call for a renewed commitment to compassion and social justice. "Becoming A Church Of Mercy"Join us!
Vatican City -- Pope Francis delivered an off-the-cuff, mini-encyclical on the rights of the poor, the injustices of unemployment, and the need for environmental protection Tuesday, saying he's not preaching communism but the Gospel.
Philadephia -- St. Laurentius Church, a 129-year-old Polish parish, is slated for demolition as soon as December.
Preston, England -- Worshippers at St Ignatius Parish were stunned when plans to shut the 180-year-old church in a month were announced from the pulpit.
Newark, N.J. -- The gas and electrical lines have finally been shut off at Queen of Angels parish, the first African-American Catholic church in Newark. Demolition stopped by order of Newark's Landmarks & Historic Preservation Commission.
Diocese of Venice establishes parish in Fort Myers, Fla. Jesus the WorkerP arish serves more than 5,000 Catholic families.
---
Looking for a little inspiration to begin your day? NCR's sister publication, Celebration, gives you two options, both based on the Scripture readings of the day: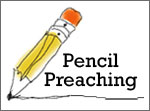 Pencil Preaching is blog in which Celebration editor Pat Marrin combines Scripture and sketching to reflect on the Word.

Daily Bread is a series of short reflections written by four authors who meet regularly to share the readings. Daily Bread is intended to help daily preachers and others who pray from the assigned Scriptures each day to orient themselves to the Living Word addressed to the church in the world. It's a great way to begin the day.
Advertisement