About that baseball game in Kansas City last night. It did not go as NCR-HQ had hoped, but it was one heck of game!
NCR columnists are still trying to figure out the synod on the famlily. Jamie Manson sasys Synod on the family proves that father still knows best. Eugene Kennedy says The biggest unreported synod influence was human experience. Bill Tammeus asks Marriages start in a church, but where is the church when one ends?
Tucson Diocese Responds to Pope Francis Evolution Comments: It's not a radical departure from church doctrine.
New Delhi -- Church group wants action on climate change Increasing population is a growing burden on depleting natural resources leading to global warming and the sum total of climate change.
Opinion: Conservative Catholics conveniently discover collegiality by Michael McGough
Manila, the Philippines -- Church must reach out to gays, divorced, Philippine bishop says
Cardinal Burke: Neither Bishops Nor Pope Can Change Christ's Teaching on Marriage
US Bishops: Iran Talks Should Weigh Fatwas on Nuclear Arms
Spokane, Wash. -- Archbishop Blase Cupich removes retired Catholic priest Dan Wetzler from ministry
Chicago, Ill. -- In a major restructuring, the Archdiocese of Chicago announced Oct. 29 that 14 elementary schools would be closed or merged at the end of the 2014-2015 academic year.
New York -- As New York Archdiocese Prepares to Reorganize Parishes, Catholics Hope Theirs Will Be Saved Cardinal Timothy M. Dolan, the archbishop of New York, said in his column in Catholic New York on Thursday that about 14 percent — more than 50 — of the archdiocese's parishes would be merged with others.
---
Looking for a little inspiration to begin your day? NCR's sister publication, Celebration, gives you two options, both based on the Scripture readings of the day: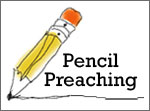 Pencil Preaching is blog in which Celebration editor Pat Marrin combines Scripture and sketching to reflect on the Word.

Daily Bread is a series of short reflections written by four authors who meet regularly to share the readings. Daily Bread is intended to help daily preachers and others who pray from the assigned Scriptures each day to orient themselves to the Living Word addressed to the church in the world. It's a great way to begin the day.
Advertisement