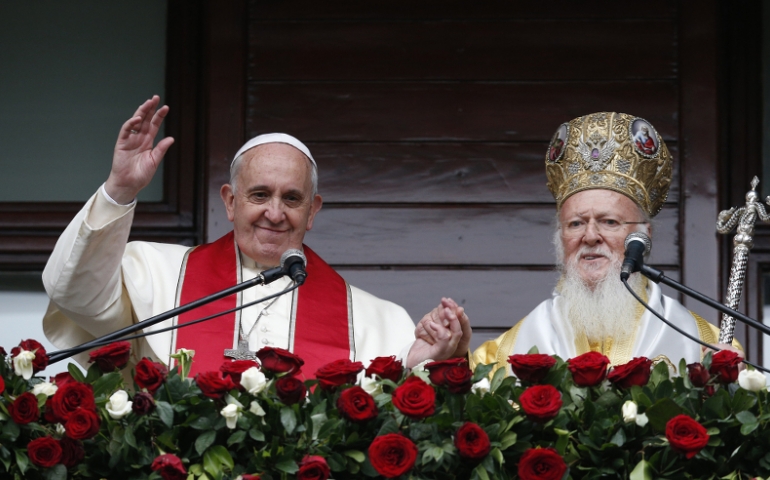 Pope Francis and Ecumenical Patriarch Bartholomew of Constantinople greet a small crowd after delivering a blessing in Istanbul Nov. 30. (CNS photo/Paul Haring)
Obama to hold meetings Monday on Ferguson
From Mother Jones: The Science of Why Cops Shoot Young Black Men And how to reform our bigoted brains.
NCR's Josh McElwee was in Turkey with the pope. Catch up on his reporting here: Francis in Turkey Some highlits:
Chaldean Patriarch, Louis Raphael I Sako: "Christians in Iraqi Kurdistan are living in miserable conditions."
Houston mourns untimely death of popular Jesuit priest: Beloved city-changing, cowboy-boot-loving priest dies at age 44
Syracuse, N.Y. -- Catholic parishes share pastors as shortage grows
Analysis: How Will the Pope Play in 2016? Francis's softer brand of Catholicism kept U.S. bishops out of the midterms—and they're likely to tone down their message next time too.
U.S. Bishops 'applaud' Obama on immigration
A Hollywood crew has finished shooting in Boston for a film about The Boston Globe's 2001 coverage of the clergy sex abuse crisis. Titled "Spotlight," the film is expected to be released next year. Globe reporters tell their 'Spotlight' stories
A pre-Thanksgiving story you may have missed: Archdiocese bans gay rights speaker from Detroit parish
---
Looking for a little inspiration to begin your day? NCR's sister publication, Celebration, gives you two options, both based on the Scripture readings of the day:
Pencil Preaching is blog in which Celebration editor Pat Marrin combines Scripture and sketching to reflect on the Word.
Daily Bread is a series of short reflections written by four authors who meet regularly to share the readings. Daily Bread is intended to help daily preachers and others who pray from the assigned Scriptures each day to orient themselves to the Living Word addressed to the church in the world. It's a great way to begin the day.