Pope Francis's 'American problem' by Massimo Faggioli, assistant professor of theology at University of St. Thomas
What did Pope Francis mean when he said children should grow up with a father and mother?
Letter calls on Vatican to investigate Milwaukee bankruptcy
Vatican City -- Pope, religious leaders pledge to work together to end slavery by 2020
What does it mean to be a minister without a congregation at Advent and Christmas? Clergy who work in settings other than the local church experience a sense of dislocation during this season.
U.N. Cuts Food Aid to Nearly 2 Million Syrian Refugees Due to Lack of Donor Funds
Thomas Berry would have been 100 on Nov. 9, 2014. Journeying into the 'Great Work' by Patricia Siemen
This West Antarctic region sheds a Mount Everest-sized amount of ice every two years, study says. This article includes a short history of the scientific study of ice melt.
Indiscriminate juvenile shackling, like putting kids 'in the stocks'
Hong Kong "Occupy" leaders surrender as pro-democracy protests appear to wither Cardinal Joseph Zen is among them.
New Delhi, India -- Police announce special investigation of Catholic church burning
Blogs, podcasts, Twitter and more. Finding religious life through social media: A Nun's Life Ministry
Michael Sean Winters questions a Washington Post op-ed: The Pope and the Koch Brothers? and he isn't alone.
Publisher's Weekly Previews: A raft of new books sheds light on the ideas of the latest pope and their potential impact on the Catholic Church Coming in 2015, books by Massimo Faggioli (May), Susan Stark and Dan Pierson (Feb. 2015) on journally and prayer; Paul Rock and William Tammeus (Aug. 2015) a seven week study guide; UK author David Willey (September); Pope Francis and the Struggle for the Soul of the Catholic Church by John Gehring; and The Future of the Catholic Church with Pope Francis by Garry Wills.
---
Looking for a little inspiration to begin your day? NCR's sister publication, Celebration, gives you two options, both based on the Scripture readings of the day: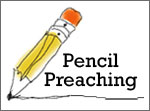 Pencil Preaching is blog in which Celebration editor Pat Marrin combines Scripture and sketching to reflect on the Word.

Daily Bread is a series of short reflections written by four authors who meet regularly to share the readings. Daily Bread is intended to help daily preachers and others who pray from the assigned Scriptures each day to orient themselves to the Living Word addressed to the church in the world. It's a great way to begin the day.
Advertisement