News that the report of the Vatican's Apostolic Visitation to U.S. women religious will be released Dec. 16 was seen Thursday by most observers as good news. Some ask Is 'huge style difference' good news for sisters?
Vatican's International Theological Commission convenes with new members, more women. Pope Francis tells the group: "By virtue of their feminine genius, women theologians can reveal, for the benefit of all, some unexplored aspects of Christ's unfathomable mystery."
Something to think about as Francis prepares for trip to Asia next month: The rise of Christianity in Asia Some say China could become the world's largest Christian nation by 2030.
Something else to think about as Francis prepares for trip to Asia next month: Sri Lankan Catholics Urge Pope Francis to Put Off Visit
Obama administration reportedly meets to discuss tougher stance on Israel's West Bank construction policies
Vatican City -- Pope says truth must prevail in Dominican sex case
Guam -- Sex abuse coordinator says no investigation of archbishop accused of abuse. Reportedly he said that accusation came from "third party" and not from the victim so review board cannot open investigation.
I am not endorsing this activity, but it does look interesting and I've heard good things about past events: "A Conversation of Intentional Eucharistic Communities"
Thiruvananthapuram, India -- 60 Indian pilgrims 'missing' in Vatican, sparking speculation that they have gone underground in search of jobs.
Alma Lopez's "Queer Saints: Holy Violence" exhibition explores the idea of female saints as butch/masculine lesbians.
Ron and Mavis Pirola, the Australia couple who addressed October synod of bishops on the family say like the idea of lay leadershp in the Vatican. Married couples would bring to the Vatican greater understanding of sexuality and real life, they say.
Mennonite preacher uses Taylor Swift lyrics to talk about Matthew 25.
An Advent Excercise: Stockpiling Treasures in My Junk Closet How I got rid of 1,000 things and finally found shalom
---
Looking for a little inspiration to begin your day? NCR's sister publication, Celebration, gives you two options, both based on the Scripture readings of the day: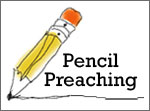 Pencil Preaching is blog in which Celebration editor Pat Marrin combines Scripture and sketching to reflect on the Word.

Daily Bread is a series of short reflections written by four authors who meet regularly to share the readings. Daily Bread is intended to help daily preachers and others who pray from the assigned Scriptures each day to orient themselves to the Living Word addressed to the church in the world. It's a great way to begin the day.
Advertisement