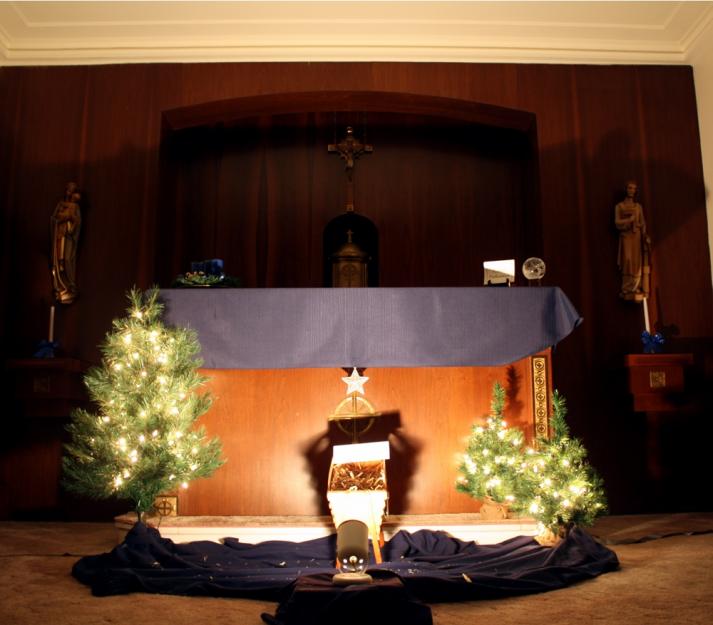 Sr. Colleen Gibson's chapel during Advent. Read item #5 below.
The blog "Political Jesus" conducted a Twitter chat discussion called #JamesConeWasRight. Click here to learn what this is about. . Then type the hash tag into Twitter to follow the disucssion.
High school athletics in Minnesota: Bishops Oppose Trans-Inclusive Athletic Policy While H.S. Student Supports It
Engage the future: Reflections on the apostolic visitation report by Sr. Sandra M. Schneiders. "I want to delve a bit below the surface of both the process and the text itself to engage what I think are some of the deeper issues and concerns and hopes that invite and challenge us for the future."
Marquette professor banned from campus after criticizing classroom gay marriage discussion
That first Sunday night it appeared. In the stillness of the final day of November it had taken its place, where it was to remain for the coming four weeks of Advent. There in the chapel, a tiny manger had appeared. No wise men, no family, not even any animals. Simply, a manger. Rejoice! Rejoice! Emmanuel shall come to thee, O Israel. by Colleen Gibson
Update: Women offer stole, other gifts to Pope Francis. See a photo of the stole and read more about the project here: The stole.
Choose your words carefully, Pope tells Catholic media
Idaho's new Catholic leader meets followers, pledges to study Spanish
At the monthly All Are Welcome Mass in Dublin: Gay Catholics pray 2015 will be the year of the welcome
Contention surrounds sale of six California Catholic hospitals
Former Catholic Brother to be Sent to Australia to Face 250 Charges of Sexually Abusing Children
Dominican boy endured 6 years of sex abuse, death threats by priest
ICYMI -- Global Sisters Reporter series: Using creativity, strategy, communities plan for retirement care
Manila, Philippines -- President Aquino to thank Pope for reviving the Church also reminds the youth to stay faithful to God
---
Looking for a little inspiration to begin your day? NCR's sister publication, Celebration, gives you two options, both based on the Scripture readings of the day:
Pencil Preaching is blog in which Celebration editor Pat Marrin combines Scripture and sketching to reflect on the Word.
Daily Bread is a series of short reflections written by four authors who meet regularly to share the readings. Daily Bread is intended to help daily preachers and others who pray from the assigned Scriptures each day to orient themselves to the Living Word addressed to the church in the world. It's a great way to begin the day.